The Killer Inside Me hits DVD and Blu-ray in September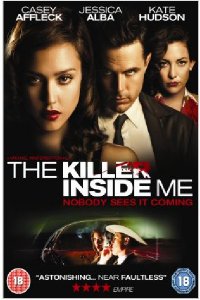 THE KILLER INSIDE ME
STARRING
CASEY AFFLECK, JESSICA ALBA, KATE HUDSON
,
SIMON BAKER, ELIAS KOTEAS, NED BEATTY AND BILL PULLMAN
DIRECTED BY MICHAEL WINTERBOTTOM
Based on the classic novel by Jim Thompson (The Grifters)
AVAILABLE ON DVD AND ON BLU-RAY
FOR THE FIRST TIME FROM SEPTEMBER 27
Michael Winterbottom's faithful and superbly crafted adaptation of legendary pulp writer Jim Thompson's novel
The Killer Inside Me will be released on DVD and on Blu-Ray for the first time on September 27
.
Casey Affleck (The Assassination of Jesse James, Gone Baby Gone) has been universally praised for his captivating performance the handsome, charming, unassuming small town sheriff's deputy Lou Ford. Lou has a bunch of problems. Woman problems, law enforcement problems, and an ever-growing pile of murder victims in his west Texas jurisdiction.
Suspicion begins to fall on Lou, and it's only a matter of time before he runs out of alibis. But in Thompson's savage, bleak, blacker than noir universe nothing is ever what it seems, and it turns out that the investigators pursuing him might have a secret of their own.
Jessica Alba (Sin City) and Kate Hudson (Nine) star alongside Affleck, giving career best performances in this stylish and handsome film noir, a superb example of its genre. The first rate ensemble cast also includes Elias Koteas, Bill Pullman, Ned Beatty and Simon Baker.
The Killer Inside Me
is an seamless adaptation of one of the great psycho-noir novels and a chilling exploration of the mind of a killer that will stay with you long after viewing.
Notes to editors:
Certificate: 18; Running Time 109 mins; Rental Cat no: ICON 30212; Retail Cat no: ICON10212; Rental Barcode: 5051429302126; Retail Barcode: 5051429102122; BD Cat no ICON70212;
BD Barcode: 5051429702214; UK SRP: £17.99; UK BD SRP: £17.99
Extras
:
Behind the scenes, Cast interviews.
The novel of The Killer Inside Me by Jim Thompson is available in paperback (Orion; £7.99).