Get your fix of House as Season 6 arrives on DVD and Blu-ray in September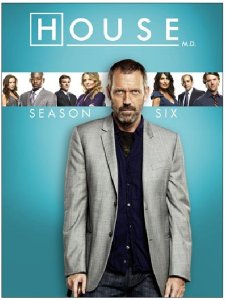 HOUSE: SEASON SIX
ON BLU-RAY AND DVD - 27TH SEPTEMBER 2010
"Possibly the cleverest, wittiest drama on TV" - Boyd Hilton HEAT
"Love him or hate him, Dr Gregory House is irresistible" - The Times
"A witty treat(ment)!" - Star
"Dr House makes us all feel better" - The Mail on Sunday
Get ready for a full dose of medical mystery as
Hugh Laurie
is back as Dr. Gregory House in the sixth season of the Golden Globe®-winning and Primetime Emmy® Award-nominated series,
House
. The hugely successful medical drama from Sky One is now yours to own on DVD and Blu-ray from
27th September 2010
from Universal Playback - the first season of this award-winning series to be presented on Blu-ray format.
In this brilliant sixth season, House finds himself in an uncomfortable position - away from the examination room. As he works to regain his license and his life, his co-workers deal with staff shakeups, moral dilemmas and their own tricky relationships with House. Featuring an outstanding supporting cast including Omar Epps ("ER"), Olivia Wilde (
Tron
), Lisa Edelstein ("The West Wing"), Jesse Spencer (
Uptown Girls
), Peter Jacobson (
Transformers
), Jennifer Morrison (
Star Trek
), and Robert Sean Leonard, this must-own collection includes all 21 season six episodes complete with riveting bonus features.
House
is a medical mystery show that centres on the irreverent Dr. House, a brilliant diagnostician whose unconventional thinking and flawless instincts have earned him a great deal of respect. Join House and his elite team of dedicated doctors and nurses as they race against time to treat patients with strange illnesses before it is too late!
HOUSE: COMPLETE SEASONS 1-6 ALSO AVALIABLE
Product Information
Release Date: 27th September 2010
Credit: Universal Playback
Genre: Comedy Drama
Cert: TBC
Discs: DVD 6 / BD 5
RRP: DVD £34.99 / BD £44.99
Retail Cat. Number: DVD 8276029 / BD 8279054
Retail EAN: DVD 5050582760293 / BD 5050582790542
Copyright: © 2009 - 2010 Universal Studios. All Rights Reserved.
Extras (DVD and Blu-ray)
·
BEFORE BROKEN (9:53 EST):
Featuring Hugh Laurie and shot on location with no script and no plan, experience House's emotional journey at Mayfield Psychiatric Hospitable from an all-new up close and intimate perspective as originally envisioned by Director/Executive Producer Katie Jacobs in a never-before-seen original short.
·
A NEW HOUSE FOR HOUSE (22:30 EST):
An in-depth feature highlighting the amazing Mayfield hospital set from the 2-hour season premiere episode, "Broken".
·
BROKEN COMMENTARY WITH DIRECTOR/EXECUTIVE PRODUCER KATIE JACOBS, WRITER/EXECUTIVE PRODUCER RUSSEL FRIEND & WRITER/EXECUTIVE PRODUCER GARRETT LERNER ON/OFF
Extras (Blu-ray only)
NEW FACES IN A NEW HOUSE (6-8 MINUTES):
"Broken",the 2-part episode, which kicked off Season 6, featured none of the regular stars of HOUSE other than Hugh Laurie. In this featurette we'll discuss the challenges and opportunities that are presented when a show must hire more than 30 new actors to perform pivotal roles in an extremely important episode.
CRAZY COOL EPISODE: EPIC FAIL (21:23 EST):
In this piece we'll feature the awesome visual effects accomplishments that were realized in the episode "Epic Fail".
U-CONTROL
Available U-CONTROL features on this Blu-ray disc:
Ø
A BEGINNER'S GUIDE TO DIANOSTIC MEDICINE