Comedy drama Plan B turns up on DVD this September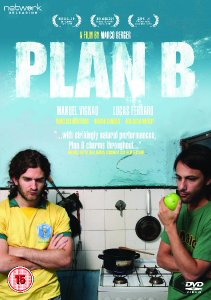 PLAN B
(15)
"A beautifully shot reflection on male foibles and friendships…Outstanding"
Maria Delgado, BFI London Film Festival 2009
Freedom, desire, romance and revenge are the themes that are explored in the acclaimed Argentinean comedy drama PLAN B from Marco Berger, available to buy on DVD on 13th September 2010, RRP £15.99.
Bruno is dumped by his girlfriend. Behind a calm, indifferent exterior, his mind plots a cold, sweet vengeance. She, a modern girl, continues to see him once in a while, but has another boyfriend - Pablo. Bruno becomes Pablo's friend, with the idea of eroding the couple, perhaps introducing him to another woman. But, along the way, the possibility of a Plan B arises. It may be a more effective one - and it is also one which will put his own sexuality into question, taking him into the secret, unexplored places of his own heart.
Set in Buenos Aires, this witty, beguiling feature masquerades as a familiar romantic comedy, only to confound expectations by testing the boundaries of gender and social demarcations. PLAN B is Marco Berger's first feature film, and was presented at the 11th BAFICI in Buenos Aires in March 2009 and toured across the UK as part of the BFI Lesbian and Gay Film Festival in 2010.
***END***
NOTES TO EDITORS
PLAN B (15) is available from Network Releasing
Release Date: 13th September 2010
RRP: £15.99
Running Time: 103 minutes approx.
Screen Ratio: 16:9/colour
No. of disc: 1
Cat. No.: 7953453