ITV drama Albert's Memorial comes to DVD in September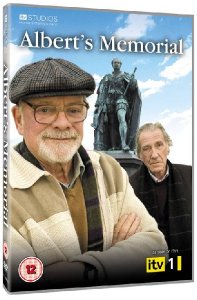 THE TALE OF A LIFE CHANGING WISH
ALBERT'S MEMORIAL, THE NEW ITV1 DRAMA STARRING SIR DAVID JASON IS AVAILABLE TO OWN ON DVD FROM 13 SEPTEMBER COURTESY OF ITV STUDIOS HOME ENTERTAINMENT
Albert's Memorial is a funny and moving story which follows three World War Two veterans - Harry (Sir David Jason), Frank (David Warner) and Albert (Michael Jayston).
Albert's dying wish to be buried on the little hill outside Hinderburg in Germany is the catalyst which tests the survival of Harry & Frank's friendship, as events and conflicts that shook and traumatised their comradeship for more than half a century re-surface to haunt them.
When Albert passes away, the two kidnap his body, strapping his coffin to the roof rack of Harry's black cab. What follows is a bizarre journey to honour their friends' last wish.
As Frank and Harry make their ill-fated yet humorous way through Europe, they pick up German hitchhiker Vicki (Judith Hoersch), who intuitively learns of the dark secret which has driven a wedge through the heart of their friendship. Upon reaching Germany, it soon dawns upon Frank that she has intervened significantly with their lives.
Albert's Memorial is written by Thomas Ellice (
A Touch of Frost, Inspector Morse
) and reunites Sir David with David Reynolds, ITV Yorkshire's Controller of Comedy Drama and Drama Features, who is co-Executive Producer on the project with Sir David. Gina Cronk (
New Tricks, Mobile
) is the producer and David Richards (
Little Devil, Alibi, Reckless
) is the Director.
~ Ends ~
Release information:
Release Date: 13 September
Credit: ITV STUDIOS Home Entertainment
Genre: Drama
Cert: 12
Running Time: 68 minutes
Extras: None
Discs: 1
RRP: £14.99
Retail Cat. Number: 3711534083
Retail Barcode: 5037115340832
Notes to Editor
About ITV STUDIOS Home Entertainment:
ITV STUDIOS Home Entertainment is the consumer label within ITV Studios Global Entertainment. It is the company behind one of the UK's most comprehensive film and video collections with over 3000 titles and is a major player in the UK and International Home Entertainment Market. The range includes titles in contemporary and classic film (Shawshank Redemption, Fabulous Baker Boys, Brief Encounter, The Red Shoes), children's titles (Numberjacks, Thunderbirds, Big & Small, Pinky & Perky), drama (Inspector Morse, Cracker, Prime Suspect, Murphy's Law, Lewis, Ultimate Force) sport (Arsenal, and Liverpool football clubs) and comedy (Al Murray The Pub Landlord, Harry Hill's TV Burp). ITV STUDIOS Global Entertainment also owns the video rights for the Rank and ITC film collections which contain over 1500 classic British films.