Samuel L. Jackson stars in DVD and Blu-ray release of Unthinkable out September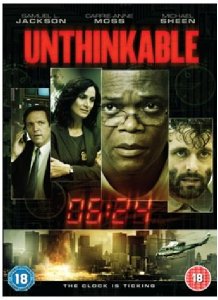 UNTHINKABLE
THE CLOCK IS TICKING
Released by E1 Entertainment on Monday 13th September 2010
Unthinkable
is a gripping new thriller which is released exclusively on DVD and Blu-Ray through
E1 Entertainment
on
Monday 13th September 2010
.
Somewhere in the United States three nuclear bombs are about to detonate - and only one man knows where they are. With the terrorist (
Michael Sheen
-
Twilight New Moon, Damned United
) already captured, FBI agent Brody (
Carrie-Anne Moss
-
Disturbia, Matrix Trilogy)
and ruthless former black-ops interrogator H (
Samuel L. Jackson
-
Pulp Fiction, The Other Guys, Die Hard: With a Vengeance
) start a race against time to get the information they need.
With the clock ticking, Brody and H have to decide how far they will go to save millions of lives in this action-packed thriller that will take you to the brink and beyond.
Unthinkable
is directed by
Gregor
Jordan
and written by
Peter Woodward
and is available to buy on DVD and Blu-Ray from
Monday 13th September 2010
.
© 2009 UNTHINKABLE CLOCK BORROWER, LLC. All Rights Reserved. Packaging © E1 Entertainment 2010.
All Rights Reserved.
Become at fan of the Facebook page:
http://www.facebook.com/pages/Unthinkable/142036502495285?v=info