Live action Death Note 1 and 2 arrive on Blu-ray this September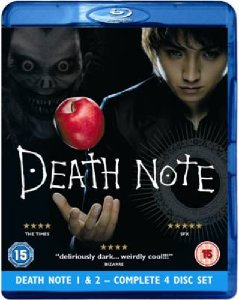 DEATH NOTE
1 & 2
RELEASED ON BLU-RAY
20 SEPTEMBER 2010
THE AWARD-WINNING No1 JAPANESE BOX OFFICE HIT
Starring Tatsuya Fujiwara
(Battle Royale 1 & 2)
Directed by Shusuke Kaneko
(Gamera)
"
deliriously dark...weirdly cool!!!"
Bizarre
Live-Action Adaptation of the Hit 25 million-copy-selling Manga Series
The
DEATH NOTE
films centre on Light Yagami (Tatsuya Fujiwara - Battle Royale), a university student who discovers a supernatural notebook, the titular "Death Note", dropped on Earth by a
shinigami
(death god) named Ryuk. The Death Note grants its user the ability to kill anyone whose face they have seen, by writing the victim's name in the notebook. The story follows Light's attempt to create and rule a world cleansed of evil using the notebook, and the complex conflict between him, his opponents and a mysterious detective known to the world only as
L
.
This 4 disc special edition box set comes with both feature films on Blu-ray;

Death Note

and

Death Note: The Last Name

plus two discs packed full of extras on DVD.
DEATH NOTE
DEATH NOTE
follows the story of Light Yagami (Tatsuya Fujiwara - Battle Royale) a brilliant but bored student with great prospects. Life changes dramatically when he finds the Death Note, a notebook dropped by a rogue Shinigami death god named Ryuk. Any human whose name is written in the notebook dies. Police call in the help of the famous, but unconventional detective L when criminals begin to mysteriously die. So begins the battle of wits to see who really is good or evil.
SPECIAL FEATURES & EXTRAS
RUN TIME: 262 minutes
RRP: £29.99
LANGUAGE: Japanese
SUBTITLES: English
CERT: 15
GENRES: World Cinema/Japanese/Thriller
CAT NO: ASIA3822
BARCODE: 5034741382212
Theatrical Trailer
Making of Death Note
Press Conference
Original Japanese Trailers
Theatrical Trailer
Making of Death Note: The Last Name
Production Diary Video
Image Gallery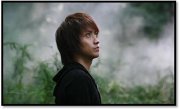 DEATH NOTE 2: THE LAST NAME
DEATH NOTE THE LAST NAME
: Light and L's psychological duel enters a new phase; whoever is careless for even a split second will lose! To complicate things further, Rem, another shinigami brings the second notebook and Misa Amane, a Japanese pop star and Kira worshipper, comes into possession of it. Now becoming a Kira herself, she accepts an offer to have the Eyes of the Death meaning she can know the name of any person without being told. Misa and Light begin to work together to find the true name of L…
Death Note & Death Note: The Last Name
(cert. 15) will be released on
Blu-ray
(£29.99) by
4Digital Media
on
20 September 2010.
RUN TIME: 262 minutes
RRP: £29.99
LANGUAGE: Japanese
SUBTITLES: English
CERT: 15
GENRES: World Cinema/Japanese/Thriller
CAT NO: ASIA3822
BARCODE: 5034741382212
Premiere at the Tokyo Forum
Original Japanese Trailers
Image Gallery
Theatrical Trailer
Making of Death Note: The Last Name
Press Conference
Production Diary Video