Horror flick The 7th Dimension arrives on DVD in August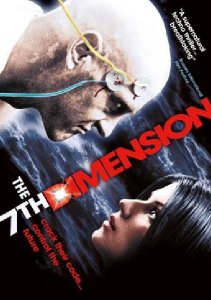 THE 7TH
DIMENSION
ON DVD 23RD AUGUST 2010
From the production teams behind
Die Another Day, Harry Potter
and
Torchwood
Crack their code ... control the future
Ever wanted to predict the future? Ever believed in a conspiracy? The members of Beacon 77, a dedicated group of computer hackers, do and now they have hacked in they cannot get back out …
Taking on the Vatican's secrets with their computers, these hackers are now faced with the puzzles of the Bible Code, a code that if cracked would give anyone who uncovers it ultimate knowledge and unlimited power. But, once Beacon 77 discovers the world's conspiracies, who is left to trust?
Never before has the battle between science and religion been so serious as never before has the future of the universe been in so much danger.
Who will win: the unprepared hackers who have discovered the deadly 7th Dimension or the omnipresent power that is far greater than any computer?
"Managing to be both creepy and tense, it's refreshing to see a homegrown horror that is hugely entertaining"
Gorezone
"A supernatural techno thriller ... breathtaking"
Brussels International Film Festival
Starring
Kelly Adams
(Bronson, The Boxer, Holby City, Hustle)
Jonathan Rhodes
(Bar Stewards, Confetti, Dead Eyes, Life Translated)
Lucy Evans
(Coronation Street, ITV's The Fortunes and Misfortunes of Moll Flanders)
Calita Rainford
(Iron Cross, BBC's Auf Wiedersehen Pet)
Written and Directed by Brad Watson
DVD DETAILS:
RUNNING TIME
: approx 90 mins
CERT
: 15
RRP
: £12.99
CAT NO
: KAL8067
BARCODE
: 5060192810660
SPECIAL FEATURES
: Making Of Documentary, Dolby Digital 5.1