Comedy drama Lymelife hits DVD in August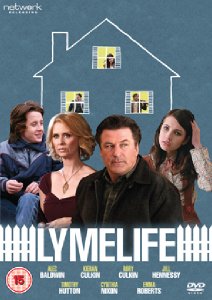 COMING OF AGE COMEDY DRAMA "LYMELIFE"
(15)
TO MAKE DVD RENTAL AND RETAIL DEBUT ON 23RD AUGUST 2010
**** Heat Magazine **** New! Magazine **** Total Film ****Evening Standard
"Excellent" The Guardian "The Year's Quirkiest Coming of Age Film" BBC Radio 5
Infidelity, family feuds and first love combine in the Network Releasing DVD debut of LYMELIFE (15), available to rent and own on 23rd August 2010, RRP £14.99.
Starring Emmy winner and Oscar nominee Alec Baldwin, Oscar winner Timothy Hutton, Rory and Kieran Culkin, Jill Hennessy, Cynthia Nixon and Emma Roberts, this critically acclaimed film won the International Critics Awards at the Toronto Film Festival in 2008.
Executive produced by Martin Scorsese and directed by Derick Martini, this semi-autobiographical tale about the American Dream gone wrong is set in the late 1970s in Long Island, New York. Scott Bartlett (Rory Culkin) is a shy Star Wars loving teenager obsessed with feisty girl next-door Adrianna (Emma Roberts). Adrianna's deer-hunting father loses his job after contracting Lyme's disease from a tic, a brain wasting illness. He hides losing his job from wife Melissa (Cynthia Nixon) by getting stoned in the basement while she embarks on an affair with her real estate boss played by Alec Baldwin, who happens to be Scott's father and her daughter's friend. Tension mounts when things become all too obvious to Scott's mother, played by Jill Hennessy, which coincides with Scott's journey to manhood…
An excellent ensemble cast make this a powerful drama with many darkly comic moments. It will appeal to fans of quirky independent films such as
American Beauty
and
The Ice Storm
.
Special Features
· Theatrical Trailer
· Stills gallery
· Interview with Emma Roberts filmed in London in 2010 as part of the UK publicity tour.
---Ends---
NOTES TO EDITOR
LYMELIFE is a Network Releasing title
Release date: 23rd August 2010
RRP £14.99
No. of Discs: 1
Running Time: 95 minutes
Catalogue number: 7953456