Family flick Free Willy 4 arrives on DVD in August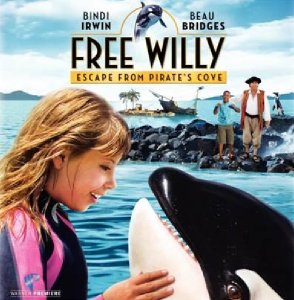 FREE WILLY: ESCAPE FROM PIRATE'S COVE
On DVD, on demand and download from 2nd August 2010
If you fell in love with
Free Willy
the first time around, then you're going to adore
FREE WILLY: ESCAPE FROM PIRATE'S COVE
, a brand new adventure from the much loved and hugely popular
Free Willy
franchise with an entirely new cast. One of the most popular family franchises ever, the first
Free Willy
movie launched back in 1993, and has sold in excess of 1.15M units on DVD & video in the UK alone! So
FREE WILLY: ESCAPE FROM PIRATE'S COVE
is the perfect chance for a new generation of fans to join in the fun with their very own adventure.
Join young adventurer
Bindi Irwin
(daughter of crocodile hunter
Steve Irwin
) in this, her feature film debut. A wonderfully family-friendly and heart-warming story of a girl who rescues an endangered whale,
FREE WILLY: ESCAPE FROM PIRATE'S COVE
sees Bindi starring as Kirra Cooper who is reluctantly spending the summer with her estranged grandfather (
Beau Bridges
-
Stargate
,
My Name is Earl
,
Charlotte's Webb
) at his run down amusement park in South Africa. During her stay, Kirra rescues a young Orca whale that has become separated from its family. Quickly bonding with the orphaned creature who becomes a much needed friend, Kirra soon realises that she must fight to reunite him with his pod and free him from a life as a tourist attraction.
Get set for an all new adventure full of new friendships and the excitement and challenges that they bring in
FREE WILLY: ESCAPE FROM PIRATE'S COVE
available on DVD, on demand and download from 2nd August 2010.
Come and visit the official Free Willy website for some fun extras and wallpapers -
http://wwws.warnerbros.co.uk/freewillyescapefrompiratescove/
Also available as a great value collection:
FREE WILLY: COMPLETE 4 MOVIE COLLECTION
. This is entertainment for the whole family.
ENDS
FREE WILLY: ESCAPE FROM PIRATE'S COVE
Release information
Release Date:
2nd August 2010
Credit:
Warner Home Video
Genre:
Family / Adventure / Drama
Run Time:
97.07 minutes
Format:
1 disc DVD / on demand / download
Cert:
PG
RRP:
£12.99
SAP No:
1000102023
Barcode:
5051892007047
Extras:
Meet My Wild Co-Stars
, new featurette
Outtake -
Kirra talks to Willy
Gag reel
Bindi's First Movie Video Diary
, new featurette
On the Set of Free Willy: Greetings from South Africa
, new featurette
Deleted scene -
Kirra Makes Dinner
Deleted scene -
Kirra and Sifisio Feed Willy
Copyright line: ©2010 Warner Bros. Entertainment Inc. All Rights Reserved.
FREE WILLY: COMPLETE 4 MOVIE COLLECTION
Release information
Release Date:
2nd August 2010
Credit:
Warner Home Video
Genre:
Family / Adventure / Drama
Format:
4 disc DVD
Cert:
PG (TBC)
RRP:
£19.99
SAP No:
1000156810
Barcode:
5051892018357