Swann ThumbCam Mini Digital Video Camera
A small but powerful video camera gadget for business or fun!
Swann Security is pleased to announce the new ThumbCam Mini Digital Video Camera.
The ThumbCam Mini Digital Video Camera is the newest gadget in Swann's covert surveillance range. It is a pinhole video camera designed to create clear, full colour AVI files and can be used to record leisure activities or for more serious covert video recording. Videos can be recorded manually at the push of a button, or switch to the sound activated recording mode for hands free operation.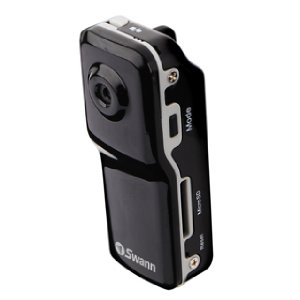 The ThumbCam is designed and built for life on the move and comes with a protective silicon cover and several mounting brackets. Record bike rides, runs, sports, holidays and much more with the 2GB SD card provided which allows up to 40 minutes record time. Upgrade to an 8GB SD card to provide 160 minutes of record time. Easily back up content by inserting the SD card into your PC, or by connecting the ThumbCam directly to your computer via the USB cable included.
The ThumbCam has a built in, rechargeable lithium ion battery which automatically recharges when the camera is connected to your PC's USB port. Keep a record of important moments by creating time and date stamped images and recordings and share them with friends and family by uploading them to Facebook, MySpace or other social network sites.
In addition to the ThumbCam, the kit includes a 2GB micro SD card, silicon cover, USB charging cable, wall, magnetic and belt brackets, software CD and operating instructions.
Swann's new ThumbCam - a tiny camera with huge possibilities!
Features:
Make videos at the push of a button or via the sound activated recording mode.
Create time and date stamped 720 x 480 colour AVI video files.
Includes 2GB MicroSD card for up to 40 minutes recording time then upload to PC via USB cable.
Email friends or upload videos to social networking sites such as Facebook, MySpace, YouTube and much more.
Built-in battery lasts 60 minutes and charges via your USB port.
Built for an active life with silicon cover and belt, magnetic and wall mounting brackets.

Price and Availability:
The new ThumbCam isnow available at SRP 49.99 inc. from PC World. For further sales information please email
selasku[at]ua.moc.nnaws