Eccleston stars in drama Let Him have it out on DVD this August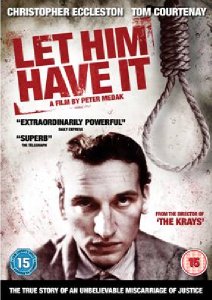 A FILM BY PETER MEDAK
LET HIM HAVE IT
RELEASED ON DVD 9
AUGUST 2010
THE TRUE STORY OF AN UNBELIEVABLE MISCARRIAGE OF JUSTICE
STARRING:
CHRISTOPHER ECCLESTON
(Shallow Grave, Elizabeth, eXistenZ, The Others)
TOM COURTENAY
(Doctor Zhivago, Nicholas Nickleby, The Golden Compass)
DIRECTED BY:
PETER MEDAK
(The Krays, Romeo is Bleeding)
EXTRAORDINARILY POWERFUL - 
DAILY EXPRESS
SUPERB - 
THE TELEGRAPH
From the director of

The Krays

comes a horrifying true story of injustice and murder.....
A policeman is shot dead and two South London boys stand accused of his murder. The verdict and the sentence passed upon the young Derek Bentley
(Christopher Eccleston)
proved to be as controversial as the crime. Both the verdict and the sentence were subsequently quashed.
This is the case that shocked the nation.
Let Him Have It
(cert. 15) will be released on
DVD
(£12.99) by
4Digital Media
on
9 August 2010


SPECIAL FEATURES / EXTRAS
· Original Theatrical Trailer
· Interactive Menus
· Scene Selection
· RUN TIME: 103 mins approx
· CERT: 15
· CAT NO: DIG3820
· BARCODE: 5034741382014
· RRP: £12.99