Animals out on DVD in August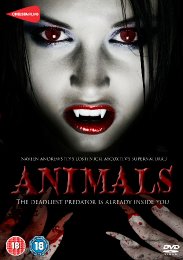 THE DEADLIEST PREDATOR IS ALREADY INSIDE YOU
Based on the best-selling 1992 novel by John Skipp and Craig Spector (who co-scripted 'A Nightmare On Elm Street 5: The Dream Child' and are regarded by many as key pioneers of the late-1980s literary splatterpunk movement),
Animals
comes to the screen as a full-blooded, no-holds-barred adaptation that mixes sex and horror in equal measure.
Directed by
Douglas Aarniokoski
(Highlander: Endgame) from a script adapted by Spector and starring
Marc Blucas
(Knight And Day; Buffy The Vampire Slayer),
Naveen Andrews
(Lost),
Nicki Aycox
(Supernatural) and
Eva Amurri
(Californication), this graphically violent and boldly erotic reinvention of the werewolf/shapeshifter mythos will certainly appeal to horror fans who prefer the mature content of 'True Blood' to the toothless, juvenile shenanigans of the 'Twilight' movies.
Ever since his dreams of a promising football career were shattered by an unexpected injury in college, one-time local hero Jarrett (Blucas) has spent the subsequent years wasting away in his rapidly dying hometown working days in a variety of dead-end, blue collar jobs and idling away his evenings in the local bar. While drowning his sorrows after being fired from his latest job following a run-in with his boss, Jarrett's humdrum existence takes an unexpected turn when he meets and is seduced by a sensuous young woman, Nora (Aycox), who is passing through town. Their reckless night of unbridled passion results in Jarrett experiencing strange primal impulses and heightened sensations, not least of which is his intense carnal attraction towards Nora.
The sudden change in Jarrett's personality causes immediate concern for his best friends, barmaid Jane (Amurri), who has a secret crush on him, and bar owner Jules (Andy Comeau). But their concerns are nothing compared to the problem Jarrett is about to face with the arrival of Nora's former lover, Vic (Andrews), a volatile, bloodthirsty predator with whom Nora shares a terrifying bond. As Jarrett's involvement in this deadly triangle of lust and bloodshed begins to threaten his very humanity, only Jane holds the key to unlocking the strangers' secret and ensuring her friend's survival.
Animals
(cert. 18) will be released on DVD (£tbc) by
Chelsea Films
on
9th August 2010
.