Meat Grinder arrives on blood splattered DVD in August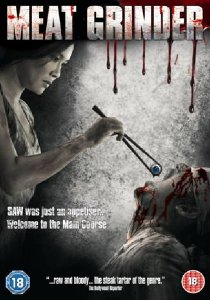 MEAT GRINDER
ON DVD 23 AUGUST 2010
SAW was just an appetizer …
Welcome to the Main Course
Filmmakers have found a secret recipe that will make gorehounds drool!
Meat Grinder serves up a sumptuous feast of murder, dismemberment, and cannibalism in this proud member of the "torture porn" sub-genre.
Destined for cult status, the over-the-top gorefest stars Mai as a deranged woman who runs a noodle stall and is hearing voices in her head all the time. When she finds a dying man in her stall one night, she gets the idea to chop him up, and grind the body parts into meatballs as ingredients for her noodle soup. It turns out to be a popular dish, and as the stall gets more and more business, she must find a steady supply of fresh human meat to feed her customers...
"…raw and bloody… the steak tartar of the genre."
The Hollywood Reporter
Meat Grinder
(cert. 18) will be released on
DVD
(£15.99) by
4Digital Media
on
23 August 2010
SPECIAL FEATURES
· Original Trailer
· Making of Documentary