MAGIX Digital DJ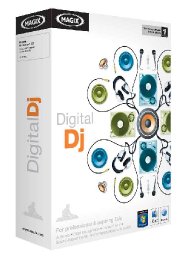 Great DJ software powered by Deckadance and Mufin Integration. Mixing music on your PC has never been easier...
A good music mix is essential for any party, and with MAGIX Digital DJ, mixing music on your PC and letting individual tracks fade into each other has never been easier. Thanks to the automix function, your PC will do all the mixing itself, and the integrated sound analysis makes sure you always find the right track.
Use your headphones to preview your audio material or apply sound effects while you are mixing music. The integrated mufin technology means that you can select a starting song and create a list of similar songs which you can then integrate into your playlist manually, or use the automix feature.
Features:
Mufin integration
Automix mode: Simply activate the automix mode and let the software take over when you want a break!
Two decks with great WAVE display and intuitive handling: easily load songs in the following formats: MP3 (Id3v1&v2), WAV and OGG.
Loop and Leap: Create great effects with the easy-to-use loop and leap functions.
Practical sync function: A single click is all it takes to synchronize songs with different BPMs.
Peakscope: Intuitively align the beats of different tracks by using the mouse.
3 Band EQ incl. 3 Band Killer buttons: Master any EQ channel right away with a simple right-click: activate/deactivate bass, mid and treb channels in real time too.
Useful and Practical features: Reverse, cue, tempo analysis, auto slave, auto sync, precise pitch control and more.
64-bit DSP quality: High quality processing guarantees DJ mixes with perfect sound.
Price & Availability:
MAGIX Digital DJ is available now for SRP £39.99 inc VAT from Amazon and PC World. For more information, please see:
www.magix.com