Art of the Gunslinger hits DVD in July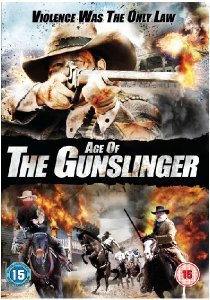 ART OF THE GUNSLINGER
A stunning epic way out West…
DVD Release date: 5th July 2010
Running time: 109 minutes
DVD RRP: £15.99
Cert:
12
James Conner's childhood is destroyed in a flash of a single gunshot when his father (William Sadler, "
The Shawshank Redemption
") is murdered by the town's psychotic saloon owner Will Tunney (Angus Macfadyen, "
Braveheart
").
Fifteen years later James returns as an aimless bounty hunter, to claim the bounty on Will's head and reunite with his childhood sweetheart, Mary Cooper (Marnie Alton, "
Love On The Side
."). Will has become even more powerful and crushes James, leaving him for dead.
When two Native Americans, Washakie (Michael Spears, "
Dances With Wolves
") and Miakoda (Tonantzin Carmelo, "
Into the West
,") find James they challenge him to forgive and not seek vengeance. James must look within himself to release his past and not be ruined by it.
A beautiful and stunning epic,
Age Of The Gunslinger
is a haunting tale of lost love and revenge.
Please note:
There are no extra features on this disc