The Smurfs finally hit DVD in July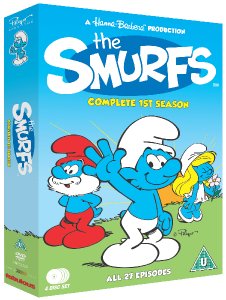 Arrow Films & Fabulous Films are proud to announce
The Smurfs
Complete 1st Season
All 27 Episodes
Available to own for the first time ever on DVD from the 5th July 2010
The Smurfs are back to enchant you once again with their amazing adventures
All your favourite characters are back like cute and cuddly Papa Smurf and lazy Smurf and not forgetting the villainess Gargamel
This classic long running children's series originally broadcast on LWT from 1982-1985 and BBC from
1996 -2002 has never been released on DVD
in the UK until now!
DVD INFORMATION
Arrow Films / Fabulous Films have secured the Home Entertainment rights to the cult classic 1980's Hanna-Barbera produced Smurfs cartoon series and the original 1976 feature film 'The Smurfs and The Magic Flute'. The original series has never been available before on DVD in the UK. Sony Pictures are currently in production of a $100 million live action/animated feature film that is scheduled for a worldwide theatrical release in July 2011. It is being directed by Raja Gosnell (Scooby Doo, Scooby Doo -Monsters Unleashed, Big Momma's House). The animated characters are being voiced by Katy Perry, Alan Cumming and Hank Azaria amongst others.
BACKGROUND
The Smurfs is a comic and television franchise centered on a fictional group of small blue creatures called Smurfs, created by and first introduced as a series of illustrated
comic strips
by the
Belgian
cartoonist
Pierre Culliford
(also known as
Peyo
) on October 23, 1958. Culliford's initial comic first appeared in the Belgian magazine
Spirou
, and several decades later was adapted into an
English language
children's television series by
Hanna-Barbera Productions
, titled
The Smurfs
.
SYNOPSIS
Far, Far Away, in a little mushroom village live a group of little blue pixies in short trousers and white bonnets called Smurfs. Only as tall as 3 apples, they speak in 'Smurf', a language only they understand. The Smurfs are carefree, peaceful creatures that live in harmony with nature. But they have a nasty habit of wanting to act like humans which causes them 1001 problems!
The Smurfs are a worldwide smash and have been for a decades. Over 300 million Smurf Toys have been sold and 256 episodes of this series were produced over 9 seasons by Hanna Barbera. A truly defining animation series that continues to captivate generations of fans young and old.
DVD CONTENTS
All 27 Episodes from the 1st Season
'I Smurf The Smurfs' A 17 minute documentary on the Smurfs
Character and Crew Biographies
Episode Synopses
Motion Menus
Collector's Edition O-Ring Packaging
On Screen Character Guide
Character Guide Booklet
Episode Guide Booklet
DVD SPECIFICATIONS
Running time: 643mins
Barcode: 503069718656
Catalogue No: FHED2760
Certificate: U
RRP Price: £39.99
4- Disc Set
The Smurfs Complete 1st Season
is distributed by Arrow Films & Fabulous Films and is available from all good DVD stockists from 5th July 2010.
www.arrowfilms.co.uk