2 disc Special Edition of Donnie Darko on Blu-ray coming this July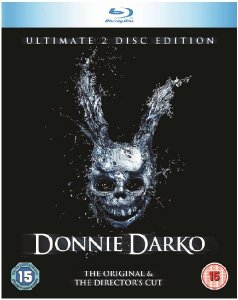 DONNIE DARKO
Blu-ray
Blu-ray Release date: 19th July / RRP: £24.99 / Cert: 15
"Why are you wearing that stupid man suit?"
For the first time in the UK,
DONNIE DARKO
comes to Blu-ray in a spellbinding 2 disc special edition featuring the original feature film and the director's cut.
Enter Donnie's world like never before with crystal clear visuals and a bewildering array of extra features highlighting this most mysterious of modern cult classics.
Whether you've experienced Director Richard Kelly's influential, time-travelling masterpiece before or you're yet to follow 'Frank' down the wormhole,
DONNIE DARKO
on Blu-ray offers an astonishing experience like never before.
EXTRA FEATURES
● FEATURE COMMENTARY WITH DIRECTOR RICHARD KELLY
● FEATURE COMMENTARY WITH CAST & CREW
● FEATURE COMMENTARY WITH DIRECTOR RICHARD KELLY AND KEVIN SMITH
● THEY MADE ME DO IT FEATURETTE
● THEY MADE ME DO IT TOO FEATURETTE
● THEY MADE ME DO IT ART GALLERY
● PRODUCTION DIARY - OPTIONAL COMMENTARY BY STEVEN POSTER, DIRECTOR OF PHOTOGRAPHY
● B-ROLL FOOTAGE
● CAST & CREW INTERVIEWS
● ADDITIONAL SCENES: 20 SCENES WITH OPTIONAL COMMENTARY BY RICHARD KELLY - DELETED & EXTENDED SCENES FROM THE ORIGINAL THEATRICAL CUT
● CUNNING VISIONS INFORMERCIALS WITH OPTIONAL COMMENTARY
● THE PHILOSOPHY OF TIME TRAVEL
● ORIGINAL TV SPOTS x 5
● ORIGINAL THEATRICAL TRAILER
● THE DIRECTOR'S CUT TRAILER