The End of Love out in June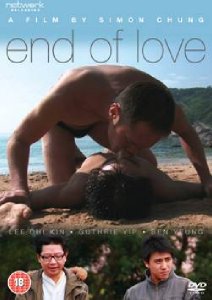 THE END OF LOVE (18)
The intriguing and beautiful drama THE END OF LOVE, is available to rent and buy on 7th June 2010, RRP £15.99 courtesy of Network Releasing. This is the second feature by young Hong Kong director Simon Chung, and it tells the story of a young gay man and his rite of passage.
Ming is an attractive young gay man living a hedonistic yet precarious life of drugs and partying in Hong Kong. After an overdose, his secret identity as a male prostitute is revealed to his partner, who is furious and ends the relationship. Ming is transferred to a Christian rehabilitation camp. While in the camp, he works hard and comes clean with both is addiction and also comes to terms with his past and himself. On his release, Ming is determined to live a "good" life - but the past does have a most unpleasant habit of coming back to haunt you…
THE END OF LOVE focuses not simply on the issues that face Hong Kong's gay community; it also deals with great intelligence and depth, the themes of love, sex, drugs, faithfulness and morality. It is, above all, a spiritual film that deals with a young man's search for values and his first tentative steps on a path of self-discovery.
***END***
NOTES TO EDITORS
THE END OF LOVE (18) is available from Network Releasing
Release Date: 7th June 2010
RRP: £15.99
Running Time: 97 minutes approx.
Screen Ratio: TBC
No. of disc: 1
Cat. No.: 7953315