First series of Facejacker arrives on DVD this May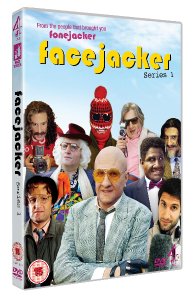 FACEJACKER SERIES 1 DVD
Released by 4DVD on Monday 17th May 2010
From the creators of the BAFTA award-winning
Fonejacker
comes a brand new show;
Facejacker
, which is available to own on DVD on
Monday 17th May
from 4DVD.
Kayvan Novak once again plays the man of mystery, but this time he gets up close and personal with his subjects rather than on the end of a phone.
The DVD will include a host of
unseen bonus material
and fans will also have the chance to own the entire collection, with the
Fonejacker series 1, 2
and
Facejacker boxset
available to own on the same day.
Disguised with the aid of prosthetics, Kayvan plays a dazzling multitude of fictional characters in
Facejacker
, some familiar and some brand new, including: the charismatic and many times divorced car salesman,
Terry Tibbs
; scamster
Augustus
Kwembe
, who hypnotises people to stop smoking but is really eliciting their bank details; and irritating complaint monger,
Dufrais
. All are thrust into real-life situations where they butt up against unsuspecting members of the public.
Brand new faces to
Facejacker
include charlatan art critic,
Brian Badonde
and
Dr Ali
, formerly Saddam Hussein's plastic surgeon of choice.
Facejacker
takes
Fonejacker
to another dimension and showcases Kayvan Novak's amazing array of voices and characters as well as his sublime comic improvisational skills.
In Series 1 and 2 of
Fonejacker,
we see Kayvan Novak addicted to making prank telephone calls and taking on the guises of various characters to ensnare his victims. This is all conveyed through a specially created stylish visual narrative that accompanies the calls using animation, stills and filmed footage of the victims and the
Fonejacker
himself at work.
Facejacker Series 1 DVD details
Released: 17th May 2010
Price: £19.99
Discs: 1-disc set
Running time: tbc
Cert: 15 tbc
Cat
No: C4DVD10321
Fonejacker Series 1-2 & Facejacker Series 1 Box Set
Released: 17th May 2010
Price: £29.99
Discs: 3-disc set
Running time: tbc
Cert: 15 tbc
Cat
No:
C4DVD10276