City of War: The Story of John Rabe out this week on DVD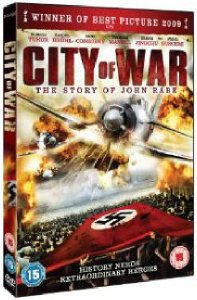 CITY OF WAR: THE STORY OF JOHN RABE
DVD release date:
3rd May 2010
Running Time:
129 mins
Cast
ULRICH TUKUR
·
John Rabe
DANIEL BRÜHL
· Dr. Georg Rosen
STEVE BUSCEMI
·
Dr. Robert Wilson
ANNE CONSIGNY
· Valérie Dupres
A true-story account of a German businessman who saved more than 200,000 Chinese during the Nanjing massacre in 1937-38.
The film picked up over seven
German Film Awards
nominations, including Best Film, Best Director, Best Actor (Tukur) and Best Supporting Actor (for Buscemi, one of the few times that a Lola nomination has been given to a non-German citizen).
It won for Best Film, Best Actor and Best Production Design. Lead actor Ulrich Tukur also won the 2009
Bavarian Film Awards
for Best Actor.
CITY OF WAR: THE STORY OF JOHN RABE is the winner of the Audience Award at the 2009 German Film Festival.