Thriller I Know You Know hits DVD in May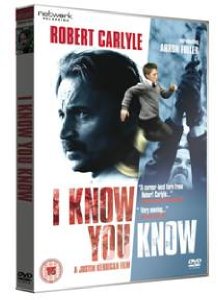 ROBERT CARLYLE STARS IN
BRITISH FATHER AND SON THRILLER, "I KNOW YOU KNOW" (15)
****
Total Film


****
Time Out
Critic's Choice
"Gripping and Intense"
Metro Newspapers
"Mesmerising. Carlyle and Fuller are outstanding"
Alan Frank, Daily Star
"A tightly wound thriller/coming of age film"
Wendy Ide, The Times
"A sturdy blend of thriller and poignant personal memoir"
Allan Hunter, Daily Express


"
Fantastic performances. Extraordinarily good".
Trevor Johnston, Sight & Sound
Network Releasing is delighted to announce the DVD release of the Welsh BAFTA winning drama I KNOW YOU KNOW. Starring Robert Carlyle, introducing Arron Fuller and directed by Justin Kerrigan (

Human Traffic

) and produced by Sally Hibbin (

Carla's Song

), this touching coming of age movie will be available to rent and buy on DVD on 24th May 2010, RRP £15.99.
Robert Carlyle (
The Full Monty
,
Trainspotting
) is Charlie, a highly charged individual on the edge. He's an undercover agent who is always on an important mission and always on the move. Jamie (Arron Fuller), his son, is fascinated by his father's espionage work until the world of spies becomes all too real. Charlie is unpredictable, explosive yet kind-hearted and fiercely protective of his son Jamie, who hero-worships his father. Events start to unravel in a way that would test and strengthen the deep love between a father and son to a point of unforeseen devastation.
Kerrigan's follow-up to the cult classic
Human Traffic
will surprise many. It is hugely different from the director's debut - a clubbers' classic. Commented Kerrigan, "Stylistically I wanted to make I KNOW YOU KNOW look and feel like an old fashioned film shot in the 80's to juxtapose the model for the birth of the satellite TV corporation that plays a threatening undertone to the mission." Commenting on the ten-year gap between making HUMAN TRAFFIC and I KNOW YOU KNOW
,
Kerrigan added, "After my father's death I needed to make this film as a testimony of love and to understand the double life he led when I was a child."
Winner of the Welsh BAFTA for Best Film in 2008,
I Know You Know
was created in conjunction with the Film Agency, Wales.
****ENDS****
NOTES TO EDITOR

I KNOW YOU KNOW is available to rent and to buy from Network Releasing
RELEASE DATE: 24th May 2010
RRP £15.99
Picture Ratio: 16:9/colour
Running Time: 78 minutes approx.
No. of Disc: 1
Cat. No.: 7953319