Gumball 3000 out on DVD and iTunes this April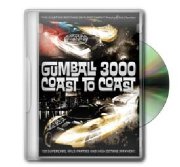 Gumball 3000 'Coast to Coast'
Released on DVD and iTunes April 26th
Gumball 3000 'Coast to Coast' is a high speed action packed adventure full of high jinx antics filmed during the eight days of the 2009 Gumball Rally from Los Angeles to Miami. From 'sandal skating and donuts on the freeway' to wild penthouse parties, this road trip offers viewers a unique passenger ride experience on the worlds most exclusive road trip, available on DVD and iTunes on 26th April.
Featuring over 100 amazing super cars including; a gold-plated $1.8 million Bugatti Veyron, custom Rolls Royce Phantoms, the world's fastest production car, the SSC Aero, the latest Nissan GT-R, Maximillion's ultra rare Jaguar XJ220S, and more Ferraris, McLaren SLRs, Aston Martins, Bentleys, and Lamborghinis than you've ever seen before, makes this an automobile must see for car lovers everywhere.
So buckle up alongside; NBA bad boy Dennis Rodman, MTV Dirty Sanchez 's Matt Pritchard, the fire breathing Fuel Girls, Cypress Hill's DJ Muggs, rock band Avenged Sevenfold, skateboarding supremo Tony Hawk, supermodel Caprice, British indie band The Enemy, and UAE Royal Sheikh Mohammed Al Thani as they drive, party and endure 3000 grueling miles!
Directed by: Arlen Figgis & Maximillion Cooper
Certificate: 18


Notes to editors:
The first Gumball 3000 took place in April 1999, when founder
Maximillion Cooper
invited 50 friends to take part in a 3000-mile party around Europe to bring together the music, film, fashion and sport industries. Ten years later, and things have certainly grown, with crowds of over million people attending the rally last time in Europe, and a televised and online audience that reached over 60 million in over 100 countries.
Gumball 3000 consistently hits the headlines as
'Cool Britannia's'
most unique addition to pop culture, described by
Vanity Fair
Magazine as
'the most rock 'n' roll car rally ever staged'
and famed for its exploits and celebrity participation. The event annually attracts stars including Oscar-winning star of the Pianist
Adrien Brody
, Jackass'
Johnny Knoxville
,
Bam Margera
and
Ryan Dunn
,
David Hasselhoff
,
Hugh Hefner
, supermodels
Jodie Kidd, Caprice
and
Tyson Beckford,
Kill Bill's
Daryl Hannah
, action sports legends
Tony Hawk
,
Matt Hoffman, Carey Hart,
and rock stars including
Snoop Dogg
,
Travis Barker
,
Jamiroquai
and
Xzibit
!
Incorporating a new 3000 mile route each year, the attraction of the Gumball 3000 transcends social barriers, appealing to the adventurer in everyone, regardless of status or wealth; combining grease, glamour and guts in equal measures, stretching the experiences of travel and entertainment - just that bit further. Over the past 10 years Gumball 3000 has been hosted by Kings and Presidents, partied with
Snoop Dogg
, appeared on the
Jay Leno
Show, raised awareness for testicular cancer, chartered the worlds 3 largest aircrafts, created untold amounts of 'Jackass' fuelled mayhem, hung out at Hugh Hefner's, and most recently has been invited to work with the United Nations, all through the language of the motor car.
Go to
www.gumball3000.com
for the latest news, reviews, videos, apparel, art, blogs, street culture and everything automotive for the Gumball generation.