Drama Everybody's Fine in June on DVD and VoD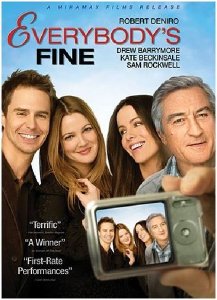 Frank wanted the holidays to be picture perfect. What he got was family...
EVERYBODY'S FINE
Available on DVD, Download and VoD from Monday 28th June 2010
Academy Award-winner Robert De Niro, is joined by an all star cast in the award-winning, heartfelt drama
Everybody's Fine
, available to own on DVD, via Download or Video-on-Demand from
Monday 28th June
.
Based on the Italian film,
Stanno Tutti Bene
, and co-written and directed by Brit Kirk Jones (
Nanny McPhee
),
Everybody's Fine
tells the poignant and moving story of Frank Goode (Robert Di Niro), who, feeling detached from his grown-up children, embarks on a trip across America in order to visit them all.
A touching story of love, tragedy and above all else, family,
Everybody's Fine
boasts an all-star ensemble, including Kate Beckinsale, Sam Rockwell and Drew Barrymore. Produced by Gianni Nunnari (
Shutter
Island
), Ted Field (
The Last Samurai
), Glynnis Murray (
Nanny McPhee
) and Vittorio Cecchi Gori (
Life is Beautiful
),
Everybody's Fine
features additional bonus material including deleted and extended scenes as well as the making of Sir Paul McCartney's
(I Want To) Come Home
.
Everybody's Fine
is the perfect reminder of the importance and significance of family and is a must for film collectors and lovers of dramas alike.
(Ends)
Bonus Features
- Deleted Scenes
- Extended Scenes
- Making of Paul McCartney's
(I Want To) Come Home
Product information:
Release date: Monday 28th June 2010
Certificate: 12A
Running time: 99 minutes
Directed by: Kirk Jones
Distributor: Miramax
Everybody's Fine is available on DVD, Download and VoD from Monday 28th June 2010