British thriller Bad Day out on DVD and Blu-ray in May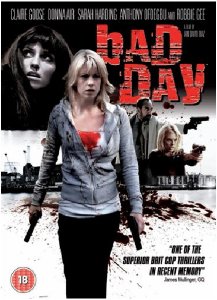 SARA HARDING STARS IN BRITISH INDEPENDENT THRILLER 'BAD DAY'
Available on DVD & Blu Ray 24th May 2010
From ISIS Ltd
"ONE OF THE SUPERIOR BRIT COP THRILLERS IN RECENT MEMORY"
James Mullinger, GQ.
Sarah Harding
is unrecognisable as she loses her trademark blonde crop in her first acting role in the British independent film 'Bad Day'.
Starring alongside
Claire Goose
from the hit Emmy Award winning BBC TV series Waking the Dead, UK actress and presenter
Donna Air
and
Robbie Gee
from the hit movies Snatch and Pirates of the Caribbean: The Curse of the Black Pearl,
Sarah Harding
from the successful UK girls band Girls Aloud really proves she has what it takes in the movie world as she plays foul-mouthed gangster's moll, Jade Jennings.
Directed by Ian David Diaz, Bad Day is 'Girl Power' at its best as the women take control. The action packed twisted plot takes you on a fast paced journey, while highlighting some of the real issues effecting London's streets.
Synopsis
Rebecca Ryan (Claire Goose) has been working undercover for the Organised Crime Division (OCD), posing as a taxi driver while investigating London's south side mob. When she finds that her own young daughter has been brutally murdered she fears that her cover may have been blown.
As Rebecca trawls the seedy depths of London's underworld, hunting down her daughter's killers, the lines between good and evil, right and wrong begin to blur, as do her notions of justice and revenge. She embarks on a brutal bloody campaign of vengeance against the gang she believes is responsible. The fragile bonds that hold the gang together begin to unravel and death pervades. No one is safe, including the elusive and mysterious Jade (Sarah Harding).
A trail of blood begins to flow from Rebecca's quest for justice and it's left up to the world-weary OCD agent Darius Cruise (Anthony Ofoegbu) to bring her in. He and his newly assigned, hot-tempered partner Abby Barrett (Donna Air) must do what no cop likes to do - to go after one of their own and, if necessary, take her down.
DVD PRODUCT DETAILS:
Title: Bad Day
Credit: The Seven Twelfth Collective Ltd
Release Date: 24th May 2010
Distributor: ISIS Ltd
DVD Price (RRP): £15.99
DVD Catalogue No.: ISIS1001
Blu Ray (RRP): £17.99
BD Catalogue No.: ISIS4001

Certificate: 18
Feature Running Time: 93 minutes approx. + 62 minutes bonus
BD Catalogue No.: ISIS4001
Special Features
Having A Bad Day (the Making of): featuring Ian David Diaz (Director), Cast and Crew
Audio Commentary: Director, Cast and Crew
Deleted Scenes
Bad Day Trailer