MAGIX MP3 Deluxe 16. Get the most out of your music collection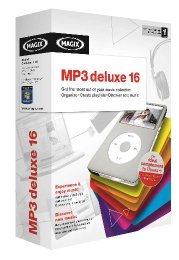 The perfect solution for music on your PC.

MAGIX AG, One of the leading international providers of software, online services, and digital content, has announced the release of MP3 Deluxe 16.
MAGIX MP3 Deluxe 16 is the complete manager for your personal music collection on your computer and includes everything you need in a single package. It has never been easier to import CDs, manage your music collection, record new songs from the internet and transfer everything to MP3 payers, iPods, or mobile phones.
The mufin.com technology automatically creates playlists and music mixes based on the sound properties of saved songs. The package also includes new features like Hit Finder, Music Browser, expanded mufin Vision and a quicker, more flexible program interface. Automatically analyze your MP3 collection and discover the huge range of functions and flexibility of MAGIX MP3 Deluxe 16!
Features:

A complete solution for any application: Rip CDs, import music, format and edit, record Webradio, ID3 tagging, burn music and transfer it to MP3 players, iPod etc.
New Music browser: Use the integrated browser functionality to download free MP3s from band websites.
New Filter Functions: Use the unique filters to find the music you want in your collection more directly.
New Hit Finder: Simply record your favourite genre of music with the Hit Finder.
Improved, modern user interface for even more fun while you work!
Enjoy your music archive in a completely new way as a unique 3D music universe via mufin Vision.
Listen to, record and enjoy thousand of the world's best webradio broadcasters, including timed recordings.
Price & Availability:
MAGIX MP3 Deluxe 16 is available now for SRP £29.99 inc VAT from Amazon and PC World.