Horror flick Bear hits DVD in May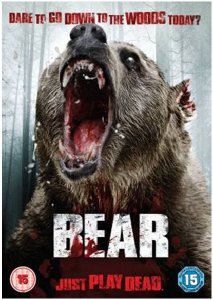 BEAR
COME FACE TO FACE WITH NATURE'S MOST FEROCIOUS PREDATOR…
DVD Release date: 3rd May 2010
Running time: 78 minutes
DVD RRP: £15.99
Cert:
15
An idyllic trip into bear country turns into a nightmare when the mini-van carrying two brothers and their partners suddenly blows a tire on a mountain road and rouses the attentions of one of the inhabiting Grizzly population.
Defiantly one of the brothers, Wall Street hot-shot Sam, pulls out a gun and kills the curious creature.
Big mistake!
As the group head on into the woods, the bear's mate, a ferocious eight-foot-tall Grizzly, arrives on the scene and attacks. As they battle against the surprisingly cunning and intelligent beast, secrets between the brothers and their own mates begin to emerge.
Trapped inside their van, fighting for their lives, the group must use their wits and every last drop of survival instinct they have to survive and escape a fierce showdown with the claws of death!
Please note:
There are no extra features on this disc