Eleventh Season of Murder She Wrote hits DVD in April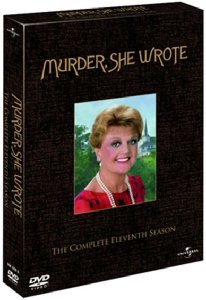 MURDER, SHE WROTE
THE COMPLETE ELEVENTH SEASON
The case has opened on another set of gripping murder mysteries as Angela Lansbury returns as the iconic Jessica Fletcher in
Murder, She Wrote: Season 11
. Out on DVD from
26th April 2010
from Universal Playback, Season 11 contains 21 sensational episodes of the Primetime Emmy® Award and Golden Globe® nominated series
Read between the lines of Jessica's famous novels and you'll discover what her legions of fans already know - mystery has a way of following this witty writer wherever she goes. Joining Jessica's adventures are guest stars Jeffrey Nordling (24), Doris Roberts (Everybody Loves Raymond), Ann Cusack (The Informant!), Jeri Ryan (Boston Public, Star Trek: Voyager), and more as they become part of Jessica's acclaimed investigations that span the globe from hometown Cabot Cove to tropical Martinique.
No crime lover's collection is complete without these entertaining adventures from the literary sleuth whose life is a real page-turner.
Murder, She Wrote: Did you know?
Ø Angela Lansbury holds the record for the most Emmy nominations for outstanding leading actress in a drama series with 12, one for each of the Murder She Wrote seasons. However she never won the award, which is a record within itself.
Ø The filming location of Jessica Fletcher's hometown of Cabot Cove is actually Jaws Lake as seen on the Universal Studios tram tour.
Synopsis
Jessica Fletcher is a retired English teacher who, after being widowed in her early fifties, became a very successful mystery writer. Her late husband's nephew Grady, who was raised by the Fletcher's following the death of his parents, found one of Jessica's novels and submitted it to a publisher behind her back. Not only did the novel get published, but it became a best seller.
Soon Jessica became an international celebrity and travelled throughout the United States and the world promoting her novels. Her one eccentricity is an insatiable curiosity, especially whenever murder rears its ugly head - which it seems to wherever she goes.
She displays a knack for solving murders and becomes a well respected amateur criminologist. However, most detectives and police officers don't want her anywhere near their crime scenes, until her accurate deductions convince them to listen to her. Some are fans of her books and are glad she's involved in the investigation. With time, she makes friends in many police departments across the USA, as well as a British police officer attached to Scotland Yard.
Her expertise, quick thinking and a keen eye for detail ensures she always catches her criminal.
ENDS
Release information:
Release Date:
26th April 2010
Credit:
Universal Playback
Genre:
Crime Drama
Cert:
12
Running Time
: 15 hrs 40mins
Discs:
6
RRP:
£34.99
Retail Cat. Number:
8275586
Retail Barcode:
5050582755862
DVD Extras:
Bonus Episodes from Season 12
Copyright:
© 1994/1995 Universal Studios. All Rights Reserved.
Visit www.universal-playback.com for more information.