Bare knuckle drama Gutter King hits DVD in April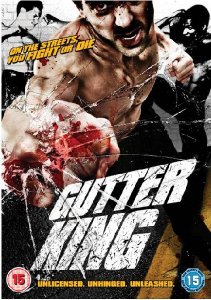 GUTTER KING
ON THE STREETS, YOU FIGHT OR DIE
DVD Release date: 26th April 2010
Running time: 96 minutes
DVD RRP: £12.99
Cert:
15
Torn from life on the streets, a story bloodied and scarred by bare-knuckle action. Hard as nails and deadly as a one inch punch to the gut.
A troubled kid from juvenile hall with a second chance is dragged by his new father and brother into the uncompromising world of underground fight clubs to earn his keep.
Having lived his whole life on the street, Will is a natural-born fighter, one the best the scene has ever seen. But when the encounters the dark side competition, his life begins to cave in around him.
Spiralling into a world of brutal, impulsive violence, the treacherous world of amateur bare-knuckle brawling threatens to consume Will and everything he's ever loved and fought for.
Please note:
There are no extra features on this disc