War drama The Bridge starring Franke Potente is out in April on DVD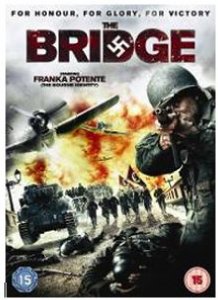 THE BRIDGE
FOR HONOUR, FOR GLORY, FOR VICTORY
DVD Release date: 5th April 2010
Running time: 100 minutes
DVD RRP: £15.99
Cert:
15
Starring Franka Potente (
'The Bourne Identity'
) 'The Bridge' is a breathless and utterly gripping tale of courage and heroism amid the explosive chaos of World War II.
Just a few weeks before the surrender of Nazi Germany to the allies, young recruit Albert is drafted along with a cadre of soldiers to defend The Bridge, a vital lifeline for the war effort and a strategic vantage point that must be protected to the death.
As the Allied forces approach, troops are mobilised, bombs begin to fall and anarchy begins to take hold. With their superiors fleeing, Albert, his brave band of brothers and Elfie, a local schoolteacher (Potente) are left in a life or death battle to survive.
Confronted by the brutal reality of war these young heroes must defend their land and their people at all costs, before the madness of war consumes them all.
Please note:
There are no extra features on this disc