Stag Night arrives on DVD in April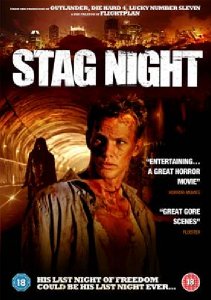 From the producers of
OUTLANDER, DIE HARD 4, LUCKY NUMBER SLEVEN
& the creator of
FLIGHT PLAN
STAG NIGHT
ON DVD & BLU-RAY 19th April 2010
His last night of freedom could be his last night ever
Written and Directed by:
PETER A. DOWLING
(Flight Plan)
Producers:
ARNOLD RIFKIN, CHRIS EBERTS, MICHAEL PHILIP
and
JO MARR
Starring:
KIP PARDUE
(ER)
VINESSA SHAW
(The Hills Have Eyes)
BRECKIN MEYER
(Ghost of Girlfriends Past)
KARL GEARY
(The Burrowers)
SCOTT ADKINS
(The Bourne Ultimatum, X-Men Origins: Wolverine)
"Entertaining ... A Great Horror Movie"
Horror-Movies
"Great Gore Scenes"
Flixster
Out on the town in New York to celebrate his last night of freedom, Mike
(Kip Pardue)
and four friends stumble from bar to strip joint in search of a little hands-on 'bachelor' action. 
But, when they board the subway late at night to head downtown, an unscheduled stop at a deserted station that was closed back in the 70's leaves them trapped beneath the busy streets above.  
With mobile phones that don't have reception and a maze of tunnels that all look the same, they decide to walk the tracks in search of help.  But deep in the tunnels, they witness a horrendous act of violence that terrifies them and places their lives in danger.  
Running for their lives beneath the streets of New York City, the group is being hunted.  Mercilessly tracked and with help always agonizingly close above, it begins to look like Mike's last night of freedom could very well be his last night ever… 
DVD & BLU-RAY DETAILS
RUNNING TIME: 84 mins
CERT: 18 (TBC)
RRP: DVD £12.99, BLU-RAY £19.99
CAT NO: DVD KAL8069, BLU-RAY KAL8070
BARCODE: 5060192810684, BLU-RAY 5060192810691
SPECIAL FEATURES: TBC