MAGIX Website Maker 4. A world's first for PC and Mac
MAGIX has released a program for creating websites, which, for the first time can be used on Windows (PC and Netbooks) and on Macintosh OS X. Website Maker 4 is a progressive online software package. Based on modern flash technology, this program allows you to create high quality, animated Flash websites with a real entertainment touch. MAGIX Website Maker 4 runs online on any web browser which allows you to manage your website from anywhere.
The website is already set up on the web, so all you need to do is modify it online according to your needs and present it online using the 1-click publishing feature. Website Maker 4 provides you with all you need to post a website online in a single package.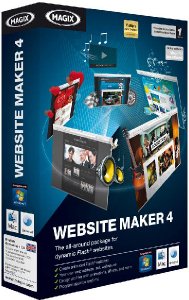 Features:
Supported learning for "Creating Flash websites" thanks to the website tutorial: "How to easily create your own website" as a 64 page booklet, alongside context sensitive video tutorials, and Website Maker wizard.
No installation: Online software optimized for broadband serves as automation and control centre for creating your own site and managing its content - anytime worldwide via the web.
Animated web design templates with sophisticated designs you can adjust to match your website with just a few clicks.
Interactive photo & video presentations with galleries, lightboxes and media players.
Multi-project mode for pros: Operate website projects at multiple domains.
Earn money by participating in the Google AdSense™ program.
For a small fee you can acquire domains and email accounts with .net, .org, .biz, .info
Export and integrate media players & entire websites via HTML into other websites. No need to export to other servers via FTP.
The tried and tested Drag & Drop function makes creating websites child's play.

Price & Availability:
MAGIX Website Maker 4 is available now for SRP £39.99 inc VAT from Amazon and PC World.