Series 4 of Doc Martin out in March on DVD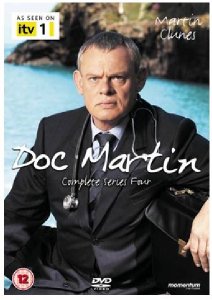 "It looks great, the love story grips, the jokes gently tickle and the performances are as neat and appealing as Portwenn itself."  Daily Telegraph 
DOC MARTIN SERIES 4
"What's not to like?"  Radio Times 
Available on DVD from 1 March 2010
"Doc Martin is one of the most original characters on TV whose adventures in the surreal village of Portwenn are touching, funny and in a strange way true to life."  Sunday Express
Momentum Pictures is serving up just what the doctor ordered this Mother's Day with the
1 March
DVD release of the fourth series of the immensely popular
DOC MARTIN
.  A consistent ratings winner and smash hit DVD success, a Series 1-4 box set will also be available to buy, ensuring a full dose of top notch entertainment.
Martin Clunes
(
Men Behaving Badly, William and Mary, Goodbye Mr Chips
) returns again in the role he has made his own - the hilariously cantankerous Dr Martin Ellingham - in the fourth series and, as ever, his curmudgeonly ways and distinct lack of bedside manner continues to upset the otherwise convivial community of the beautiful Cornish village of Portwenn.  Joining Clunes are regular cast members
Caroline Catz
(
Murder in Suburbia, Vice
),
Katherine Parkinson
(
IT Crowd, Ahead of the Class
),
Stephanie Cole
(
Housewife 49, Waiting for God
),
Ian McNeice
(
Rome, Oliver Twist
) and
Joe Absolom
(
Vincent, Eastenders
).
Series 4 sees the doctor questioning his place in the village following the departure of school headmistress Louisa.  However, he soon faces plenty of other challenges as he sets out to cure his phobia of blood once and for all and discovers romantic distraction in the form of old medical school acquaintance and local hospital hot shot Dr Edith Montgomery (Lia Williams).
As ever in Portwenn, things do not go smoothly and, just when the grumpy doctor starts to find himself on something of an even keel, he discovers an even bigger surprise in store...
DOC MARTIN
remains one of the jewels in ITV1's comedy-drama crown and the DVD release of the fourth series will undoubtedly provide the perfect tonic for fans everywhere.  What's more, with a Series 1-4 DVD box set releasing on the same day, new fans have got the perfect opportunity to catch up with the GP's outrageous antics.
"Doc Martin knows how to tweak my guilty pleasure buds."  Metro
Series 4 Release Information:                                                        Series 1-4 Release Information:
Release Date:
1 March 2010                                        
Release Date:
                     1 March 2010
Credit:                                  
Momentum Pictures
                            Credit:                                  
Momentum Pictures
Genre:                                  
Television                                              
Genre:                                  
Television
Running Time:
6 hours (approx)                                 
Running Time:                     
tbc
Format:
DVD                                                       
Format:                                 
DVD
Cert:
12                                                           
Cert:                                      
15
RRP:
           £19.99                                                   
RRP:                                      
£34.99
Cat No: 
                                MP884D                                                 
Cat No:                                 
MP1027D
Barcode:
                              5060116723663                                  
Barcode:                              
5060116725322