It's Garry Shandling's Show out on DVD in March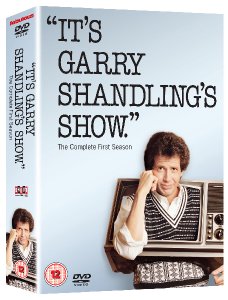 Fabulous Films are
proud to announce the first time ever
DVD release of
"It's Garry Shandling's Show"
The Complete
First Season
Available to own
from the
22nd March 2010     

              
"It's Garry Shandling's Show" was first broadcast on BBC 2 from 1986 - 1989 and was a massive hit. This series inspired the creators of 'Seinfeld and Curb Your Enthusiasm'. Garry went onto to star in the hugely popular 'Larry Sanders Show'
Garry Shandling won the prestigious American Comedy Award in 1988
for Funniest Male Performer in a TV Series (Leading Role)
SYNOPSIS
Before the internet and before reality TV there was
It's Garry Shandling's Show!
An innovative, sharp and surreal blend of reality set within the confines of a hilarious sitcom.
This is Garry Shandling's visionary TV series.  In 1986 Garry Shandling was poised to become a permanent guest host on Johnny Carson's The Tonight Show. Instead he took a chance on an offer from fledgling network Showtime to create his own television series.
The show is a surreal look at the daily life of a young single man who is a comedian. It's Garry Shandling's Show was not a typical sitcom. Shandling would break the 'fourth wall' to include the studio audience and the viewers at home in on the actual making of the show. Experimenting with the sitcom form meant inviting the audience onto the set, playing with the passage of time (it's now two weeks later) and generally exploding the genre and making art of the debris.
Teaming up with Saturday Night Live's Alan Zweibel, Shandling 'put on a fourth grade play' every week for four seasons. With a crew of talented young writers including Tom Gammill, Max Pross, Al Jean, Michael Reiss, David Mirkin, (who would go onto to Seinfield and The Simpson's) and Ed Solomon who wrote Men In Black, television history was made. Over the years, guest stars (playing themselves) included Tom Petty, Rob Reiner, Vanna White, Red Buttons, Dan Akroyd, Martin Mull, Gilda Radner (in her last TV performance), Carl Reiner, Chevy Chase, Jeff Goldblum, Don Cornelius, The Turtles and many more.  From its unforgettable theme song to its closing credits, It's Garry Shandling's Show was award winning, mind bending television for 4 season and its influence is clearly seen in the best TV comedies through the decades to follow. 
DVD CONTENTS                                                    DVD SPECIFICATIONS
All 16 full length episodes                                          Running time: Approx 475mins
Commentaries on 5 episodes                                      Barcode: 5030697017239
'Getting There' The Road To The Show                    Catalogue No: FHED2683 
Television Parts - Sketches                                         Certificate: 15 TBC
Information booklet                                                    RRP Price: £39.99
4- Disc Set                    
"It's Garry Shandling's Show"
is distributed by Fabulous Films and is available from all good DVD stockists from 22nd March 2010.