Horror double bill Two Evil Eyes out in February on DVD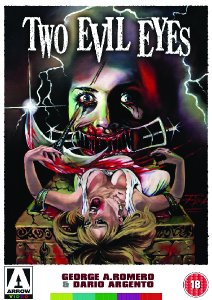 TWO OF HORROR'S GREATEST DIRECTORS, DARIO ARGENTO AND GEORGE A. ROMERO, JOIN FORCES FOR 'TWO EVIL EYES'.
Two Evil Eyes
(aka
Due Occhi Diobolici
) brings together two of the horror genre's greatest directors,
George A. Romero
(Night Of The Living Dead, Dawn Of The Dead, Day Of The Dead) and
Dario Argento
(Suspiria, Inferno, Tenebre, Sleepless), to remake two Edgar Allan Poe tales previously brought to the big screen by B-movie maestro Roger Corman in his 1962 film, 'Tales Of Terror'.
Directed by Romero,
The Facts In The Case Of M. Valdemar
tells the story of a scheming, cheating wife (Adrienne Barbeau) who convinces her psychiatrist lover (Ramy Zada) to hypnotise her dying husband (Bingo O'Malley) in order to get him to sign his fortune over to her. When the husband dies while still under hypnosis, he finds himself caught in a limbo between the worlds of the living and the dead, and hungry for revenge.
In
The Black Cat
, directed by Argento, Harvey Keitel plays Roderick Usher, a feline-hating, Weegee-like forensic photographer who, naturally, specialises in shooting pictures of death and murder scenes. When his wife, Annabel (Madeleine Potter) brings home a stray cat, Usher wastes no time in disposing of the animal. Unfortunately, the cat refuses to stay dead, prompting Usher's terrifying, murderous descent into madness.
Starring genre movie favourites
Adrienne Barbeau
(The Fog, Escape From New York, Creepshow),
Tom Atkins
(The Fog, Escape From New York, Creepshow, Halloween III:Season Of The Witch),
Bingo O'Malley
(Knightriders, Creepshow) and
E.G. Marshall
(Creepshow), alongside
Harvey Keitel
(Reservoir Dogs, Pulp Fiction),
Sally Kirkland
(The Sting, The Player, JFK),
Kim Hunter
(Planet Of The Apes),
Martin Balsam
(The Six Million Dollar Man, All The President's Men) and
John Amos
(Die Hard 2), the movie also marks the feature film debut of a young
Julie Benz
(Darla from TV's Angel and Buffy The Vampire Slayer).
Featuring plenty of bloody mayhem to please the gore-hounds, courtesy of special make-up effects wizards
Tom Savini
(Dawn Of The Dead, Creepshow, Day Of The Dead) and
John Vulich
(Day Of The Dead, TV's Buffy The Vampire Slayer), and set to a suitably chilling score by
Pino Donaggio
(Carrie, Dressed To Kill, The Howling),
Two Evil Eyes
is an essential addition to every horror aficionado's collection.
Two Evil Eyes
(cert. 18) will be released on
DVD (£15.99)
by
Arrow Video
on
15th February 2010
.