The Spell out on DVD in February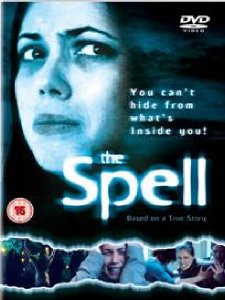 THE SPELL
RELEASED ON DVD 22ND FEBRUARY 2010
A film by CRYSTAL HEART AWARD winning director Owen Carey Jones
Written & Directed by:
Owen Carey Jones
(Love is Forever, A Mind of Her Own)
Starring:
Rebecca Pitkin / Pietro Herrera / Amber Hodgkiss / Julia Curle
Based on true, documented events...
Jenny
(Rebecca Pitkin)
is a young girl who has it all - beauty, brains, a steady boyfriend and even her own flat at the age of 16.  But scratch beneath the surface, and you uncover a childhood scarred my mistreatment and abandonment. 
Desperate for attention and seeking the love she never received from her parents, Jenny becomes involved with a handsome stranger
(Pietro Herrera)
with a dark obsession with the occult.  Surrounded by witchcraft and black magic, her choices soon take her down a path that leads to a series of terrifying, other-worldly experiences. 
She seeks help from friends, doctors, psychiatrists and religious leaders but finds only scepticism and disbelief. But finally, committed to a mental hospital and on the very edge of sanity, can she find a way to salvation?
DVD DETAILS:
Running Time: 85 minutes
Cert: 15
RRP: £12.99
Cat No: KAL8062
Barcode: 5060192810615
SPECIAL FEATURES:
Theatrical Trailer