Series One of Misfits comes to DVD this December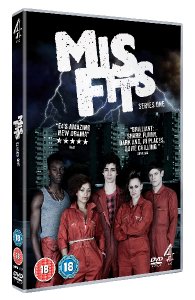 Misfits Series One
Being a superhero has never been such a pain
Released exclusively by 4DVD on Monday 28th December 2009
E4's amazing new drama.
«««««
-

Heat
A lively script given a shot of adrenaline by a cast grabbing hold of what they know is a big opportunity... 'Misfits' remains a treat of 'Skins' proportions
-
Time Out
Misfits blazed onto the screen with such a terrific sense of humour, self-confidence and brio -

Daily Telegraph
Smart, and funny, odd...action-packed -

The Independent
Brilliant: sharp, funny, dark and, in places, quite chilling -

Guardian
Fresh and original -

Metro
Misfits
is
E4's latest teenage comedy drama to thunder onto our screens and is available to own on DVD from
Monday 28th December
,
courtesy of
4DVD
. 
The show features a hot young cast of emerging acting talent - Robert Sheehan
(Red Riding),
Iwan Rheon
(Spring Awakening),
Lauren Socha
(The Unloved)
Nathan Stewart-Jarrett
(The History Boys)
and newcomer Antonia Thomas. 
Misfits
kicks off with five teenagers who are thrown together as they work on a 'Community Payback' scheme at a local community centre, where they spend their days scrubbing off graffiti and picking up litter. When the 18 year olds get caught in a freak storm they miraculously develop strange superpowers which change their lives forever.   
Party-girl Alisha (
Antonia Thomas
) can send people into a sexual frenzy with just one touch, lovable chav Kelly (
Lauren Socha
) can hear peoples' thoughts, while one-time sporting hero Curtis (
Nathan Stewart-Jarrett
) discovers he has the power to turn back time.  Simon (
Iwan Rheon
), the clever but shy one, discovers he can turn invisible - which is what he has always felt. 
Smart-alec and Irish charmer Nathan (
Robert Sheehan
) is furious to discover that he is the only one of the gang apparently unaffected by the storm. The biggest mystery about him remains how he got his community service order in the first place - all anyone knows is there was a mysterious incident involving some pick-n-mix… 
Bound by a deadly secret, the rest of the gang try to get their heads round their new abilities, while Nathan is left trying to find out what his power might be. 
Over six episodes, the
Misfits
reluctantly step up to the plate to save each other and the rest of their community from the very thing they've all been mistaken for - the bad guys.  But our gang don't swap their Reebok classics and ankle tags for capes and tights. Instead, they discover just how tough life can be when you're all that stands between good and evil. Well, that and your curfew… 
This DVD features over an hour of extra material including behind the scenes videos with cast & crew, the making of Misfits and 'Simon's films' - 4 videos Simon took on his phone of the other group members. 
Made by Clerkenwell Films (
Afterlife
, ITV's
Persuasion
) for E4,
Misfits
is the first major commission for writer/creator Howard Overman (
Merlin
,
Hustle
).
Misfits
is
executive produced by Murray Ferguson and Petra Fried and produced by Kate Crowe. Upcoming directors Tom Green and Tom Harper take the helm, the former in his television directorial debut, the latter hot off
The Scouting Book for Boys
and
Cubs
.
Misfits
is available to own on
Monday 28th December
courtesy of
4DVD
.
DVD Details
Release date:       
Monday 28th December 2009  
RRP:               
        £19.99      
Running time:      
271 mins approx
Format:
                  2 discs
Cert:                      
18
Cat No:
                   C4DVD10307