The Tudors Season 3 hits DVD and Blu-ray in December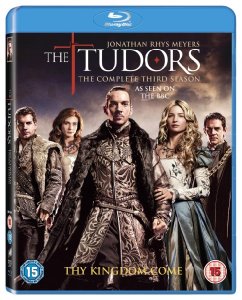 THE TUDORS - THE COMPLETE THIRD SEASON
Starring Emmy® and Golden Globe® Winner Jonathan Rhys Meyers, Joss Stone and Henry Cavill
Set Contains 8 Episodes on Three Discs with Bonus Materials
Including On Set with

The Tudors

and Soul Queen Meets Tudor King: Joss Stone as Anne of Cleves.
Available on Blu-ray DiscTM and DVD from 7 December 2009
Plotting and passion abound in this lavish account of one of the most turbulent reigns in English history. Returning for a third sexy and sensational series,
The Tudors - The Complete Third Season
is released to buy on Blu-ray and DVD from 7th December 2009, courtesy of Sony Pictures Home Entertainment. 
This spectacular, Emmy® Award-winning drama from Michael Hirst, creator of the Academy Award winning
Elizabeth
and
Elizabeth: The Golden Age
, which recently aired on primetime BBC2 and is set to be released on DVD just in time for Christmas. 
Season 3
sees Jonathan Rhys Meyers (
Match Point, Mission: Impossible III
) returning to the role of Henry, alongside Henry Cavill (
Stardust, Tristan
+
Isolde
), Annabelle Wallis (
Body of Lies
) and multi-award winning singer Joss Stone in her debut TV acting role as Anne of Cleves. 
The three disc box set contains all 8 episodes from the third season and is available on DVD for £29.99 RRP and on Blu-ray for £39.99 RRP. Bonus materials includes featurettes On Set with
The Tudors
and Soul Queen Meets Tudor King: Joss Stone as Anne of Cleaves. Also included is an Exclusive Tour of Hampton Court 
In addition, Season 3 will also be available to buy as part of
The Tudors 1-3
(9 disc) DVD box set, which contain every episode of the pulse-racing historical drama - a royal treat for fans this Christmas. 
SYNOPSIS:
Following the execution of Anne Boleyn, King Henry VIII takes Jane Seymour as his third wife convinced she is the woman destined to bear him a son. Though Jane's pregnancy is cause to rejoice, Henry faces mounting threats to his authority from a commoners' revolt inside England and a Pope in Rome who is determined to stem Protestantism's rise. As attacks on his new church foreshadow trouble for the King, the increasingly powerful Thomas Cromwell redoubles his efforts to crush Catholicism across England. When Jane dies shortly after giving birth to Henry's first son, Cromwell looks to capitalize on the tragedy to find a new wife who will bring with her the alliances needed to stave off a Catholic invasion - only to be undermined by Henry's staunchest supporters. And as an anguished Henry struggles to codify his position as the head of the new church, no one is safe from his growing madness. 
DVD and Blu-ray Special Features Include:
On Set with

The Tudors

 Soul Queen Meets Tudor King: Joss Stone as Anne of Cleaves.
 Exclusive Tour of Hampton Court