Fight Club: 10th Anniversary Edition out on Blu-ray this month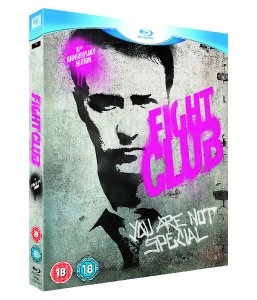 You were looking for something to change your life. You got it.
10TH ANNIVERSARY EDITION - FOR THE FIRST TIME ON BLU-RAY
Definitive Version of
Fight Club
, Remastered Frame-by-Frame by Director David Fincher and Featuring Knock Out Performances From Oscar Nominee Brad Pitt And Golden Globe Winner Edward Norton, Fight Club Scuffles Onto Blu-ray Disc on 23rd November From Twentieth Century Fox Home Entertainment
Quit
your job. Start a fight. Prove you're alive. If you don't claim your humanity you will become a statistic. You have been warned.
Clever, savagely witty and dark,
Fight Club: 10th Anniversary Edition
, arrives on Blu-ray on 23rd November
from Twentieth Century Fox Home Entertainment.  Acclaimed filmmaker and Academy Award nominee David Fincher (
Se7en
,
The
Curious Case of Benjamin Button
) spent hours analyzing every shot in his cult classic, making painstaking alterations to almost every frame for this ultimate high-definition release.  
Based on the novel by Chuck Palahniuk (Choke),
Fight Club
is a pitch-black comedy that follows a ticking-time-bomb insomniac (Edward Norton;
The Incredible Hulk
) seeking an escape from his mundane existence and white-collar job in American society.  Finding solace only in feigning terminal illness and attending support groups, he meets the feisty chain-smoking vixen Marla Singer (Helena Bonham Carter;
Terminator: Salvation
;
Harry Potter
films) who immediately gets under his skin with her unconventional outlook on life.
Upon returning from a business trip, he stumbles upon a more intriguing character, the subversive soap salesman, Tyler Durden (Brad Pitt;
Mr. and Mrs. Smith
).  The two quickly become friends, bonding over a mutual disgust for corporate hypocrisy and find release in an eccentric, shocking new form of therapy - Fight Club.  A brutal, bare-knuckle underground secret society run by the premise that men are only able to find freedom when they are willing to risk death, the club escalates to a whole other level, where the boxing matches and harmless pranks soon lead to an out-of-control spiral full of twists and turns towards oblivion and ironically, self-discovery. 
The
Fight Club: 10th Anniversary Edition
Blu-ray is packed full of punches with all-new bonus materials including two interactive featurettes - "A Hit In The Ear: Ren Klyce and the Sound Design of
Fight Club
" which allows users to remix four key scenes themselves with the help of
Oscar-nominated sound designer Ren Klyce; and "Insomniac Mode: I Am Jack's Search Index," giving viewers the ability to access any part of the disc's extensive bonus material via interactive tools. 
The Blu-ray also features behind-the-scenes with Fincher, Pitt and Norton as they accept the Guy Movie Hall of Fame honor for
Fight Club
at SPIKE TV'S 2009 GUYS CHOICE Awards, commentary by David Fincher, Chuck Palahniuk, Brad Pitt, Edward Norton and Helena Bonham Carter,
"Welcome To Fight Club" featurette, seven deleted scenes, a music video, photo gallery and much more.  
Fight Club
has received numerous accolades over the years - listed as one of the "50 Best Guy Movies of All Time" by Men's Journal in 2003; the quote "The first rule of Fight Club is you don't talk about Fight Club" was voted #27 of "The 100 Greatest Movie Lines" by Premiere in 2007; Empire readers voted the film as the ninth and eighth greatest releases of all time in 2004 and 2006, respectively; and it received the "Guy Movie Hall of Fame" honour at the 2009 Spike TV Awards.  The DVD itself is one of the top-performing titles of all time. 
Synopsis
:
A lonely, isolated thirty-something young professional in an unidentified, semi-stylized city, seeks an escape from his ordinary life with the help of a devious soap salesman.  They find their release from the prison of reality through underground fight clubs, where men can be what the world denies them.
Blu-ray Disc Specs:
The
Fight Club
Blu-ray Disc is includes the following special features:
New

A Hit In The Ear: Ren Klyce and the Sound Design of

Fight Club

Welcome To

Fight Club

Angel Faces Beating
The Crash
Tyler's Goodbye

New

Flogging

Fight Club

New

Insomniac Mode: I Am Jack's Search Index, Commentary Log, Topic Search

New

Guys Choice Award

New

Work: Production, Visual Effects, On Location

New

Edward Norton Interview
Commentary by David Fincher
Commentary by David Fincher, Brad Pitt, Edward Norton and Helena Bonham Carter
Commentary by Chuck Palahniuk and Jim Uhls
Commentary by Alex McDowell, Jeff Cronenweth, Michael Kaplan and Kevin Haug
Seven Deleted Scenes and Alternate Scenes
Theatrical Teaser, Theatrical Trailer, The Eight Rules of

Fight Club

12 TV Spots
Public Service Announcements
Music Video
Five Internet Spots
Promotional Gallery
Art Gallery