Action comedy Krod Mandoon And The Flaming Sword Of Fire hits DVD in November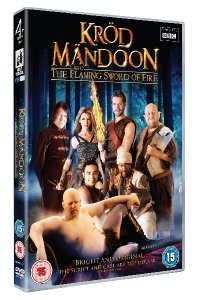 Krod Mandoon And The Flaming Sword Of Fire
Released exclusively by 4DVD on Monday 23rd November 2009
"Groundbreaking action comedy"
Daily Express
"Red Dwarf meets Monty Python and the Holy Grail, but a whole lot slicker"
Independent
"The best of the week... The new medieval comedy romp Krod Mandoon and the Flaming Sword of Fire is an absolute hoot."
The Times
"Belly laughs aplenty."
Glamour
"A new sitcom that does for sword-and-sorcery adventures what Red Dwarf did for sci-fi".
Radio Times
Available on DVD for the first time,
Krod Mandoon And The Flaming Sword Of Fire
is a groundbreaking five part fantasy action comedy epic starring the super-buff
Sean Maguire
and the fiendishly funny BAFTA award-winning
Matt Lucas
. 
Krod Mandoon And The Flaming Sword Of Fire
as seen on BBC2 is available on DVD from
23rd November
,
courtesy
of
4DVD
.  
In the darkest days of the Meconian Empire, tyranny reigned throughout the land until a glimmer of hope arrived - the son of a blacksmith and a stay-at-home mum, a man of unwavering determination: Krod Mandoon (Sean Maguire,
Meet The Spartans
), the last great hope in the struggle against the evil ruler, Chancellor Dongalor (Matt Lucas,
Little Britain
). 
To assist in the great fight, Krod has assembled a band of remarkably ineffectual freedom fighters: Aneka (India de Beaufort
, Run, Fatboy, Run
), the beautiful Pagan warrioress whose weapon of choice is sex; Loquasto (Steve Speirs
, Pirates Of The Caribbean, Star Wars: The Phantom Menace
), the oafish servant with bad aim; Zezelryck (Kevin Hart
, Scary Movie 3 & 4, Along Came Polly
), the young warlock whose greatest magical gift is spinning a line; and Bruce (comedian Marques Ray), bereaved lover of Krod's late mentor General Arcadius. 
Together, they must overcome a myriad of obstacles in their quest to save the world, including name-calling, hired assassins and bad hair days. Will they succeed? 
Krod Mandoon And The Flaming Sword Of Fire
also features
John Rhys-Davies
(T
he Lord Of The Rings, Raiders Of The Lost Ark, Indiana Jones And The Last Crusade
),
James Murray
(
Primeval, Under The Greenwood Tree, Cutting It
), and
Alex MacQueen
(
The Inbetweeners
,
Holby City, The Thick Of It
). 
The series is co-produced by
Hat Trick Productions
and
MRC
for
Comedy Central
and BBC Television. It is created by
Peter Knight
, written by Peter Knight and
Brad Johnson
, directed by
Alex Hardcastle
(Lead Balloon, Not Going Out) and produced by
Mario Stylianides
(Fonejacker, Armstrong & Miller). 
Extra's featuring on the DVD include:
Behind the Scenes with Kevin Hart
Cast interviews
Out takes
Deleted scenes
Extended scenes
Alternative opening
Krod Mandoon And The Flaming Sword Of Fire is the all action comedy and is available to buy on 23rd November 2009 courtesy of 4DVD  
Krod Mandoon And The Flaming Sword Of Fire
details: 
Released:            
23rd November 2009
Price:                    
£19.99                                                             
Discs:                    
1
Running time:    
162 mins approx
Cert:                      
15       
Cat No:                 
C4DVD10287