Halloween Horrors 2009 Part 2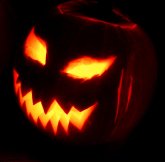 As Halloween gets closer, I continue my roundup of some of the horror films on the shelves that may grace your screen on Saturday night.  As has become traditional, I'll be watching, amongst others, John Carpenter's
Halloween
(not the pointless remake by Rob Zombie). 
The second batch of DVDs from Brain Damage Films only served to reaffirm what I thought about the first and add to an already busy week.   The best were probably
Hell House - The Book Of Samiel
and
Bachelor Party in the Bungalow of The Damned
, two very different films - one serious, one silly. 
Awaken the Dead
had a decent premise but the low budget was occasionally all two evident;
Taste of Flesh
seemed like a
Texas Chain Saw Massacre
-lite movie and the two films by Len Kabasinski,
Fist of the Vampire
and
Curse of the Wolf
show his love for kung-fu. 
 Momentum Pictures released the first part in a proposed trilogy by Steven Miller and changed its name from the confusing
Automaton Transfusion
to the much more catchy
Zombie Transfusion
, a decent effort that will only be properly judged when the next instalment arrives. 
The new/old label Palisades Tartan released the atmospheric Korean horror
The Uninvited
which is a broody and involving work with no cheap scares and the mark of a director who can really generate tension. 
As someone who doesn't watch TV, I completely missed E4's screenings of Charlie Brooker's latest project,
Dead Set
.  This is one of the most imaginative and ambitious projects that you could put to a station and is all the better for it - bloody and thoroughly involving, this is a fantastic miniseries. 

Sam Raimi's last film was the dismal
Spider-Man 3
so it was good to see him on familiar territory with the riotous
Drag Me to Hell
.  This is one of my favourite new horrors along with
Zombieland
and one of the best genre films of the year.  Both this and
Devil May Cry
are available on both DVD and Blu-ray.
It's odd for a roundup like this to include an anime title, but the adaptation of the video game of the same name,
Devil May Cry
, is a hugely entertaining series that is pretty undemanding but great fun with enough bloodletting and demons to put it into the horror category. 

Finally, Arrow Video got into the Blu-ray game with perennial fan favourite and all-time classic
Dawn of the Dead
.  Although it had been released on BD in the US, this is the best version and challenges the R1 Ultimate Edition DVD set for the extra features with the inclusion of the Fan of the Dead and Tom Savini Scream Greats documentaries. 
Palisades Tartan have also released
two DVD sets of Asian horror films
.  The first is Asian Horror: The Essential Collection which comprises the well known films
Dark Water
,
The Eye
and
Audition
with Korean Horror: The Essential Collection including
Into the
Mirror
,
Acacia
and
The Wig.
  Of these six films, three have been the subject of an American remake but you can't beat the originals. These sets are out now and will be reviewed on the site shortly.