MCM Expo News and Anime Review Roundup
MCM News First
It's that time of year again, when people in the East End of London are confronted by men with spiky blonde hair, big red coats, and unfeasibly large guns (do people still cosplay as Vash the Stampede?), when they are accosted by people offering free hugs, when they have to avoid the dreaded yaoi paddle (don't ask. Really, don't ask). It's Expo time again, when anime fans congregate at the Excel centre, wait for hours in a queue, and whinge about the DLR being shut down on the only day that they have their gathering. It's a pilgrimage, a worship of all things manga and anime, and it's when the distributors make all the big announcements, and offer all sorts of goodies to those who are prepared to brave the horrors described above.
As usual, I was too lazy to get off my fat arse and attend, so once again, I shameless filch news from Anime UK News and
UK Anime Net
(especially their twitter feed), to offer and sate your endless appetites for information. UPDATE: Actually, I spend a good bit of Sunday trawling posts and forums, piecing together news, and then this morning,
UK Anime Net
post everything in one convenient place. So just like all the other UK anime sites, this is where I cut and paste…
Beez
New Releases
Code Geass Season 2
Gundam 00 Season 2
Plans
Anime Legends line of DVD releases being considered bringing older titles back to the UK and releasing older anime that never made it to the UK.
Beez wants to hear from the fans about everything including what Japanese guests to bring over
The Bandai Channel is still going ahead and will be released in the UK, a release date is not final yet though.
MVM
New Releases
Fate/Stay Night (Jan)
Romeo x Juliet (Feb)
Rozen Maiden (Mar)
Geisha vs. Ninjas (live-action) (Apr)
Slayers Revolution and Slayers Evolution-R will being in early 2010
No confirmed release dates
Moribito: Guardian of the Spirit
Pet Shop of Horrors
Mahoromatic: Something More Beautiful (series 2)
Plans
Blu-Ray is being looked into for HD specific series and also any interest in older series
Digital Download is being worked on in partnership with Manga Entertainment where the rights are available
More live-action films will be coming
Manga Entertainment
New Releases
5cm Per Second on DVD/Blu-Ray (Apr/May)
Sherlock Hound - English only, HMV exclusive (1st Feb)
Evangelion 1.11 on DVD/Blu-Ray
D.Gray-Man starting in Q1 2010
Soul Eater will start streaming in early 2010 with DVD release being currently planned for June/July
Sky Crawlers on DVD/Blu-Ray (May)
Fullmetal Alchemist: Brotherhood will hopefully begin streaming as soon as contracts are signed and looking at a June release for DVDs.
Box Sets
Blue Dragon
Claymore
Darker Than Black
Naruto Series 7
Looking at a possible Oshii Collection
Plans
Naruto will finish on series 9 in Apr with the final series consisting of one part
Naruto: Shippuden will be starting in early June, will be uncut and will more than likely be broken up in a similar way to Naruto Unleashed.
The first Naruto: Shippuden film will be released next year with a possibility of second before the end of the year
Manga will be taking part in the 10th Anniversary Naruto celebrations with more details announced later
Bleach Series 4 will be split into three parts. Part 1 & Part 2 will have 2 discs each with Part 3 having 3 discs
There will be a slight delay on Series 4 Part 2 while some manufacturing is sorted with Madman
Series 5 will begin towards the end of the year
Other News, Beginning With More Manga Announcements
The state of the economy may have put a damper on news announcements from the Expo compared to previous years. In addition however, some news snuck out early, and as Anime UK News reported recently, Viz are planning to release Vampire Knight in the UK. Well on their Twitter feed, Manga Entertainment have confirmed that they will indeed be releasing this series for Viz in the UK. In addition, they will also be releasing Dante's Inferno and they have licensed the Bleach series up till Season 5.
Another eagle eyed
forum goer
noticed that HMV have an exclusive from Manga in line for February 2010. That will be the release of the Complete Sherlock Hound, a five disc series retailing for some £30, but already up for pre-tail at £17.99.
Live Action Ghost In The Shell Movie One Step Closer To Cancellation
Aren't I a cynic? That's the way these things seem to work. Hollywood has a great idea to bring an anime to live action, starts spending money, announces casts, directors, release dates, and then in the end, they can the whole thing. A few years back, Spielberg mumbled an interest in the adventures of Major Kusanagi and now it transpires that a scriptwriter has been hired. I'll get excited after I see Akira and Cowboy Bebop in the cinemas.
News from Anime on DVD
.
But Then Again, Astroboy Has Been Released in US Cinemas
I should just bite my cynical tongue, as Hollywood's take on the Osamu Tezuka classic has just hit US cinemas. Made by Imagi in the US, and with a predominantly American cast, Astroboy has been remade to appeal to Western audiences, with an up to date, modern message. If this can get made, maybe there's hope for Ghost in the Shell after all.
News from ANN
.
Free and Legal Online Anime
It's been a while since I've done one of these. It turns out that finding the time to watch anime online is pretty difficult, and made harder when Crunchyroll's new season offers something close to 15 new shows to watch. I haven't even seen all of the old ones yet! But a new season is upon us, and I guess I should share an opinion or two. Although the less said about the sequel to Kiddy Grade, the better.
First up, The Book of Bantorra. Here's Crunchyroll's blurb…
In a world where the dead are transformed into books…

When a person dies, the body is divested of the soul, and when the soul departs from its body, it is crystallized into a book. Written in that book are all the memories of that soul's life. For anyone who touches that book, the dead person's past can be relived…

It is in the Library of Bantorra, created by Bantorra, the God of the Past, that all excavated books are stored. It is run by an elite organization known as the Armed Librarians. Under the direction of Acting Chief Librarian Hamutz Meseta, all Armed Librarians possess an extraordinary combination of encyclopedic knowledge and fighting skill. For this reason, it is said, the Armed Librarians are the most difficult profession to enter in the world.
That isn't the half of how strange this show is. It's pretty hard hitting, brutal, and full of dislikeable characters. Yet there is something about its left-field premise that is breathtaking in its audacity. I'm three episodes in, and still shy of a concrete opinion. It's one to watch and make up your own mind about, but it is worth a try.
Second, is really just a reminder. The second season of Natsu no Arashi has begun, and it offers the same spooky time-travelling ghost shenanigans as before. Actually it first offers a swimsuit episode followed by a hot springs episode. Click and enjoy (The links are at the side).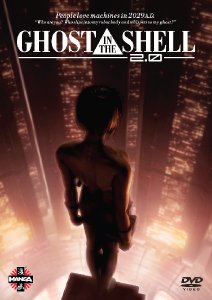 Just one new anime review last week, but it was a doozy. I got to take a look at the DVD of
Ghost in the Shell 2.0
. That isn't the sequel by the way, it's one of those annoying things which has just been taken to extremes with the Evangelion movie (see above). Some idiot in a PR company's IT department equated anime fans to computer nerds, and decided that new versions of existing movies should get decimal points, just like software does. After mentally slapping this genius until he whimpered, I sat down to enjoy the Lucased version of Ghost in the Shell. Director Mamoru Oshii has updated his masterpiece for modern audiences, with added CGI, enhanced visual effects, and he has completely overhauled the original cel-animation. You can see the results by clicking on my review. There's also a compare and contrast, if you want to see how the two versions look side by side.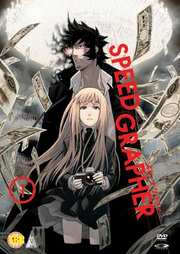 I then dove into the back catalogue, as I embarked on my adventures in Speed Grapher. What else can you do when there is a sale that you simply can't refuse? I first turned my beady gaze to
Speed Grapher: Volume 1
and got caught up in a dark, edgy, and seedy side of humanity, as portrayed in a future Tokyo underbelly, where the rich and powerful live decadent and depraved lives, jostling for power and position, making Nero look like a saint, using the everyday folk and the underprivileged members of Tokyo's citizenry as their own personal playthings. Into one exclusive hedonistic club wanders a freelance photojournalist. He gets caught, and is about to be killed for his trespass, when he just a happens to kiss the wrong girl. Suddenly he has a new, explosive power, and life in Tokyo will never be the same again. Click above for that review, or click on
Speed Grapher: Volume 2
, to see what happens next.
Manga Entertainment release Ghost in the Shell 2.0 on DVD and Blu-ray today, while Speed Grapher has been available to by courtesy of MVM for a couple of years now.