TV series Tales of the Gold Monkey arrives in November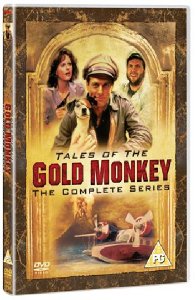 Fabulous Films are
proud to announce the first time ever on
DVD release of
Tales of the
Gold Monkey
:
The Complete Series
A NEW WORLD PREMIERE
3 MONTH PERIOD EXCLUSIVE ONLY FROM HMV STORES
Available to own
from the
9th November 2009
This 22 hour long series has never been released on VHS or DVD anywhere
in the world until now!
As seen on BBC TV in the mid 1980's
SYNOPSIS
Broadcast on the BBC 1 on Monday evenings in 1982 & 1983, the series became a massive hit following the success of the Indiana Jones films.  This 22 hour long series has never been released on VHS or DVD anywhere in the world because of music clearance issues.  These have now been resolved and Fabulous Films are proud to present the worldwide DVD premiere of this much loved classic adventure show.  In a backwater corner of the South Pacific a young American adventurer and his ragtag group of friends become involved in death-defying hi-jinx, transporting people-on-the-run in a well-worn Grumman Goose seaplane. Set in 1938, this series captures the ambience and character of a mysterious romantic era. 
DVD CONTENTS
Original Double Length Pilot Episode
The Complete 20 Episode Series
Brand New 36 Minute 'Making of Documentary with Stephen Collins (Jake Cutter), Caitlin O'Heaney (Sarah Stickney White), Tom Greene - Writer/Producer. Harvey Laidman - Director
Audio Commentaries on 5 Episodes
Series Synopsis
Stills Gallery
Caitlin's Original Costume Gallery
Artefacts Gallery
24- Page Collectors Booklet
DVD SPECIFICATIONS
Running time: 1008mins
Barcode: 5030697017024
Catalogue No: FHED2662  
Certificate: PG 
RRP Price: £59.99
6 - Disc Set                                      
Tales of the Gold Monkey
is distributed by Fabulous Films and is available from HMV for a 3 month period from 9th November 2009.