Tim Minchin special edition DVD out in October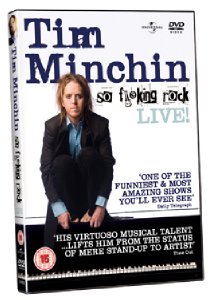 TIM MINCHIN
SO F**KING ROCK LIVE
SPECIAL EDITION DVD
Two disc DVD released by Universal Pictures (UK) Ltd on Monday 5th October 2009, available exclusively at HMV (and www.hmv.com)
"Minchin is a genuine musical virtuoso, whose songs are constructed and sung with an attention to detail that would make Rufus Wainwright sit up and look nervous. And that's even before we get to the jokes." 

The Times
The superstar
musician, comedian, writer and actor,
Tim Minchin,
toured the smash hit show
So F**king Rock Live,
to packed houses across the UK, culminating in a six week, off Broadway run in New York. Now, this hugely entertaining two hour show - a delicately arranged marriage of his luminous, award-winning stage shows 'Dark Side' and 'So Rock'- is released on a special edition, two disc DVD on 5th October and available exclusively at HMV. This special edition DVD promises to be unrelenting jollity, with two audio track CDs of the live recording at the Queen Elizabeth Hall, London as well as footage from Tim's Australian 2008/2009 tour. The double disc DVD also comes with a special 32 page lyric book. By far one of the most dynamic, dexterous and damn right brilliant new performers; this DVD truly is one not to miss. 
Tim is touring the UK from September with the critically acclaimed show,
Ready for This?,
for more information go to
www.timminchin.com
AWARDS:
Winner: Chortle Award for Best Sketch, Variety or Character Act (UK), 2009
Winner: Chortle Award for Best Full Length Show (UK), 2009
Winner: Helpmann Award for Best Comedy Performer (Australia), 2009
Winner: Best Alternative Comedian, US Comedy Arts Festival 2007
Winner: Perrier Comedy Award for Best Newcomer, Edinburgh 2005
Winner: Directors' Choice Award, Melbourne International Comedy Festival 2005
PRAISE FOR TIM MINCHIN:
"Guaranteed to bring the house down." (Metro)
"Cleverly stupid musical comedy"
(
Evening Standard)
"Witty, smart and unabashedly offensive
"
(The Age)
"He plays like an angel, sings like the rock star he always wanted to be and has a devil of a sense of humour." (Scotsman)
TIM MINCHIN SO F**KING ROCK LIVE, SPECIAL EDITION DVD Cert 15, RRP £17.99
Released by Universal Pictures (UK) Ltd on Monday 5th October and available exclusively at HMV and www.hmv.com
© 2008-2009 Universal Studios.  All Rights Reserved.