The Proposal out in November on DVD and Blu-ray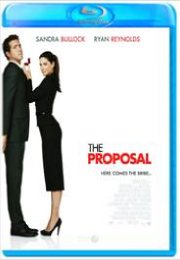 Say I do to…
THE PROPOSAL
AVAILABLE IN A TWO DISC BLU-RAY HI DEF COMBI PACK AND SINGLE DVD FROM MONDAY 30TH NOVEMBER 2009
It's the most unlikely office romance in history as
Sandra Bullock
and
Ryan Reynolds
pair up in
The Proposal
, coming to Buena Vista Home Entertainment Blu-ray Hi Def and DVD on Monday 30th November. 
The full length film is available in a two disc Blu-ray Combi Pack that includes the film in both Blu-ray and DVD format, as well as a single disc DVD edition. 
In this year's hit rom-com from Director Anne Fletcher (
27 Dresses)
, an assertive boss and her long suffering assistant find themselves in a match made in hell as they trade boardroom bickering for a less than loved up engagement - but will business become pleasure for the odd couple? 
When high-flying publishing executive Margaret Tate (
Sandra Bullock
-
The Lakehouse
) is told she faces deportation to her native Canada, she confronts the problem in her own formidable style by forcing her young assistant Andrew Paxton (
Ryan Reynolds
-  
Adventureland
) to marry her. 
Promising an ambitious Andrew a lucrative promotion in exchange for her hand in marriage, high drama and hilarious antics quickly ensue as the incompatible couple fall under the suspicion of immigration. They are soon in a race against time to convince both the authorities - and themselves - that they are genuinely in love. 
The film is set in both the corporate corridors of New York and on the scenic shores of Alaska, where the couple head to play happy families with Andrew's quirky parents. The movie features a pedigree supporting cast, including Mary Steenburgen (
Step Brothers
), Craig T Nelson (
Blades of Glory
), Malin Akerman (
The Heartbreak Kid
) and a scene stealing Betty White (
Bringing Down the House
). Sparks soon fly as the usually abrasive and controlling Margaret is introduced to Andrew's unpretentious and delightful upbringing, and starts to sample what it's like to be part of something she had long forgotten - a family... 
Can a marriage of convenience really become true love?  With laugh-out-loud comedy, witty dialogue and sizzling chemistry, The Proposal proves that cupid can strike even the unlikeliest of couples. 
Featuring a wealth of bonus material, including a never before seen ending and outtakes from the making of the movie, this must-have DVD is the perfect gift for the one you love (or haven't realised you do yet)… 
DVD Specifications:
The Proposal
is released on Buena Vista Home Entertainment Blu-ray Hi-Def Combi Pack and single disc DVD from the 30th November.
Bonus:
-          Set Antics: Outtakes and other absurdities from The Proposal - bloopers and light moments on set with the cast and crew of The Proposal
-          Deleted Scenes
-          Audio Commentary by director Anne Fletcher and writer Peter Chiarelli
-          Alternate Ending 
Product information:
Release date:                 30th November 2009
Certificate:                     12a
Running time:                 108 min
Directed by:                   Anne Fletcher