Grotesque banned by the BBFC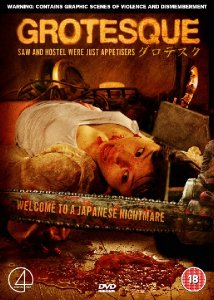 In a very rare instance, the British Board of Film Classification has refused to grant an 18 certificate to Japanese horror movie "Grotesque" due to the amount of unacceptable content featured throughout the film.
Set for distribution in the UK by 4Digital Asia, "Grotesque" concerns the abduction of a young couple by the film's main protagonist, a psychotic sadist, who proceeds to restrain, strip and sexually assault his victims before torturing them to death.
The decision to ban the film was taken by BBFC director David Cooke and senior colleagues who claimed, "Unlike other recent 'torture' themed horror works, such as the 'Saw' and 'Hostel' series, 'Grotesque' features minimal narrative or character development and presents the audience with little more than an unrelenting and escalating scenario of humiliation, brutality and sadism. In spite of a vestigial attempt to 'explain' the killer's motivations at the very end of the film, the chief pleasure on offer in not related to understanding the motivations of any of the central characters. Rather, the chief pleasure on offer seems to be wallowing in the spectacle of sadism (including sexual sadism) for its own sake."
The last time a film was rejected by the BBFC was in April of this year when "NF713" (aka "Enemy Of The State") was refused an 18 certificate. In February 2008 the film "Murder Set Pieces" was also rejected. Prior to that, the Board had not refused an 18 rating since 2005 when the film "Terrorists, Killers And Other Wackos", a work made up of real clips of executions and torture, was turned down.
A spokesperson for 4Digital Asia expressed surprise at the outright rejection of the "Grotesque", stating, "We knew that the BBFC was debating the content of the film quite intensely but we had expected to receive from the BBFC a list of recommended cuts enabling the film to be passed with an 18 certificate. We are now considering whether or not to appeal against the Board's decision."