Urban thriller Shifty out in August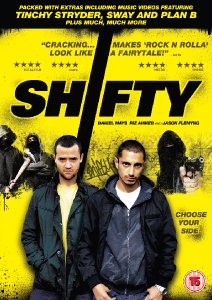 SHIFTY
RELEASED ON DVD & BLU RAY FOLLOWING A NATIONWIDE CINEMA RELEASE 
BOASTING A HUGE AMOUNT OF DVD EXTRA FEATURES 
DVD & Blu-ray Release date: 24th August 2009
Running time: 85 minutes
DVD RRP: £15.99
Blu-ray RRP: £19.99
Cert:
15
"Packs a powerful punch… An urban film with guts, heart and soul" - The List
"Will restore your faith in British film" - Dazed & Confused
"Already being hailed as the best British film of the year" - Evening Standard
"The British urban film has finally come of age" - The Guardian
"Our favourite film of the year so far… Shifty is a must see" - RWD
"It is 13 years since Trainspotting was release and that is an awfully long time for another first-class British movie about British drug culture to come along. But here it is" - The Sun
Shifty is a sharply scripted, witty, urban thriller, from writer/director Eran Creevy. Set on the outskirts of London it follows themes of friendship and loyalty over the course of 24 hours in the life of a young drug dealer, the charismatic "Shifty". 
Boasting convincing performances from a cast of rising stars including Riz Ahmed ('Dead Set', 'Britz') and Daniel Mays ('Atonement' & 'Vera Drake'). Shifty also stars Jason Flemyng and Francesca Annis.     
DISC 1 EXTRA FEATURES:
- Commentary with Writer/Director Eran Creevy & Riz Ahmed (Shifty)
- The Making of SHIFTY
- Behind The Scenes
- Deleted Scenes
- 'Shifty' soundtrack by MC Riz, Sway & Plan B - music video
- 'Number One' by Tinchy Stryder Ft. N-Dubz - music video (from the producers of Shifty)
- Eran Creevy's commercials
- Shifty soundtrack sampler
- Theatrical Trailer 
DISC 2 EXTRAS (HMV EXCLUSIVE)
- Over 100 minutes of Extended Interviews with Cast & Crew
- Riz Ahmed, Sway, Plan B: SHIFTY (Uncut Version)
- Scene Storyboards - See How The Key Scenes Were Brought To Life By The Filmmakers
- The Complete SHIFTY Script 
NOTE - Shifty was produced as part of Film London's Microwave scheme:
http://microwave.filmlondon.org.uk/