Anime Review Roundup
Release Date Changes
It's summertime, the weather's fine, the days are long, and the lager is cheap. It's no surprise then that anime isn't a priority… Your release schedule is barrelling forward like a juggernaut, relentlessly crushing all in its path, but there's an impenetrable wall of titles coming up, and the only way to avoid a major pile up is to make some breathing room. Either one of those scenarios may explain why there are so many delays in the near future, but looking at the pile of review discs I still have pending, I'm leaning towards the latter. Anyway, make a note of these new dates please.
Shigurui Death Frenzy (DVD & Blu-ray) has been delayed again till August 31st.
Claymore Volumes 3 & 4 - August 31st.
Darker Than Black Volume 1 & 2 - August 31st.
Guyver: The Bioboosted Armor Collection - September 21st.
Disgaea: Volume 2 - August 24th.
Gunparade March Clips
Don't be too downhearted, as you can console yourself with these clips for Gunparade March, the first volume of which is being released, on schedule by MVM. Some PR blurb, if you please…
Quote:
In 1945, at the end of World War II, alien invaders filled the skies above the earth and mankind was forced to confront an unprecedented threat. For the first time in human history, people of all creeds and cultures came together under one banner.

Fifty years later, countless lives have been lost and the Japanese military has resorted to recruiting those aged between 16 and 21 by way of an enforced student draft to fight the technologically advanced war against the alien invaders using Humanoid Walking Tanks. Among the new generation of soldiers are the members of Unit 5121, a small group of young men and women straight out of high school who are having to battle not only the aliens but also the everyday problems of adolescence, including their feelings towards each other. Into this tightly woven assortment of characters comes a mysterious girl named Mai Shibamura, whose presence will affect all those who come to know her.
Clip 1
Clip 2
Clip 3
Clip 4
Now scroll down and read my review.
That Other Beez Title Turned Out To Be…
The Cowboy Bebop Remix Collection! Typical, barely 18 months after I give in and import it, it gets a UK release. Seriously, if you haven't sampled Cowboy Bebop as yet (and if not, why not?), then avail yourself of this opportunity to pick up this classic anime series for a very competitive price. If you already have it, and are tempted by the chance to hear a Yoko Kanno soundtrack in 5.1 audio, as well as the extra features not found on the first vanilla release, then don't be ashamed of succumbing to temptation. This is one title worth double dipping for.
Online Anime Updates
Two more new titles from Crunchyroll this week, and as previously mentioned, they are continuing their summer of loli and yuri. Those faint-hearted among you may want to look away now. Actually maybe not so much for the first title I have been viewing. Once again, from the Crunchyroll blurb…
Yokuwakaru Gendai Maho
Quote:
Koyomi Morishita is a clumsy high school freshman looking to change herself. She unexpectedly finds a brochure for a magic school with the most power magician, Misa Anehara. However, Misa's specialty is in computers and programming. Yumiko Cristina Ichinose has a distinct style using old magic books. Koyomi's classmate, Kaho Sakazaki, is the class president. Misa's little brother who may have a bad mouth, Soshiro Anehara, is a good cook. Together, again and again, they are involved in problems but whatever it is, they fight against it. Watch out for magician fantasy!
The first episode had a sorceress trainee who somehow got separated from her panties, but that's about as risqué as it got. Instead this is a rather unconventional magical girl show, one that follows the conceit that magic in the modern day is accomplished with modern technology. Codes in computers, special apps in mobile phones, all take the place of spells and potions. It's an interesting idea, although the somewhat fractured narrative is a little hard to follow at times. The puppet show at the end is pretty cute too. 3/5
Charger Girl Ju-Den Chan
Quote:
Sendo is just an ordinary college student, until the girl Plug appears before him. Coming from a parallel world and mistaking this world as her own, she holds the secret ability to pour in willpower and energy into those without the energy, thus calling herself Juden-chan. Unable to believe the girl in front of him, Sennin eventually starts to believe that this girl is actually real. But why does Plug need his help for this job? As Plug and Sennin's life starts to intertwine together it sets things up for a heartwarming, action filled comedic adventure!
You have got to be kidding me! This is one of those shows that point out just how wrong anime can be, and should have Daily Mail readers on the warpath, except this is the Internet, and there's no place to gather with their pitchforks. Plug comes from a parallel world to our own, can fly, can't be seen by anyone, and has a mission to charge those people up who are emotionally drained. This she does by pulling a plug out of a nearby electrical transformer and sticking it into the back of her targets. Except she isn't very good at it, and except for some reason college student Sendo can see her. So we have form fitting electro suits with see through panels, we have random female nudity, we have in Sendo, a character who reacts to otherworldly women by clouting them with a baseball bat, and generally inflicting random violence upon them. Said targets of his ire are apt to wet themselves, and even begin to develop an orgasmic delight at his punishments. Crunchyroll are showing the censored version, and who can blame them. It's morally unjustifiable, it's misogynistic, it's perverted, it's also hilarious. The angel on my shoulder marks it 0/5, the devil on the other gives it 5/5.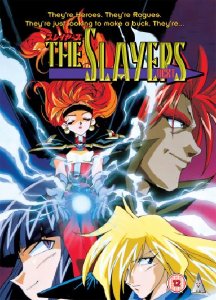 Last week's anime reviews kicked off with the conclusion of Slayers Next. As the second RPG adventure of Lina Inverse and her comedy sidekicks came to a close, I found that I had distinctly different feelings about this show than I did about the first Slayers series. It's still the same comedy RPG antics, with a group of mercenaries who think more about filling their stomachs and their pockets, but getting involved in all sorts of saving the world antics. But there is something ineffably more approachable about this second series. Read more in my review of
Slayers Next: Volume 4
.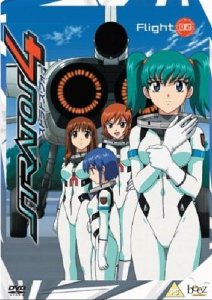 Then came the middle volume of Stratos 4. I caught a glimpse of Deep Impact a couple of nights ago on TV, and I got to wondering how much better that movie would have been if it had been more like this, with teenaged girls flying space going interceptors to destroy incoming meteors. I think with that scenario, it would have been Armageddon that would have had its arse kicked at the box office. The soup thickens in
Stratos 4: Volume 2
, a show so good that even the resident cat is subtitled.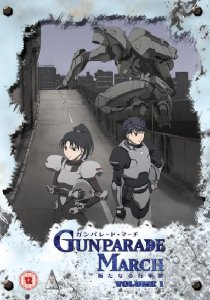 My final anime outing of the week was
Gunparade March: Volume 1
, clips of which are linked to up above. It's another end of the world scenario, but one that occupies itself more with the slice of life aspects of a high school on the front line, young defenders putting up a brave fight against an insidious menace, and finding the time to fall in and out of love as well. It's based on a Playstation 2 game, but that's no reason to panic. This isn't Hollywood, where they don't know their arse form their elbow when it comes to video game adaptations. This is anime, where the two genres are practically intertwined. It's a damn pretty looking anime too.
Beez's Stratos 4: Volume 2 has been out for years. But you'll have to wait until the 3rd of August for MVM to release Slayers Next: Volume 4, and Gunparade March: Volume 1.