Hush out in July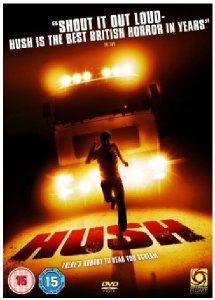 From the producers of
Donkey Punch & This is England

HUSH

"A terrifying, tightly-wound British thriller...
Hush ratchets up the tension to fever pitch"
****
Robbie Collin, NEWS OF THE WORLD
 
"Tense and terrifying. A remarkable debut."
David Edwards, DAILY MIRROR
 
"The best British horror in years
A tense inventive thriller"
****
 THE SUN
 
Starring William Ash, Christine Bottomley,
Claire Keelan, Stuart McQuarrie, Robbie Gee, Sheila Reid and Andreas Wisniewski

 
Written & directed by Mark Tonderai

 
Out To Own On DVD on Blu-ray 20th July 2009

 
It's dark and raining. You're driving home on the motorway. A truck overtakes you. Its shutters open for a split second and inside you see a caged woman screaming for help. What do you do? What should you do? You do nothing. You don't want to get involved. But what happens when the next victim is the person you love?
The debut feature by writer/director Mark Tonderai is a gripping psychological thriller that begins with an ordinary late-night drive home on the motorway and ends with a deadly game of cat and mouse.
Tired and irritable, Zakes (Will Ash) and Beth (Christine Bottomley) drive home along the M1, a familiar journey full of harshly lit service stations and bad coffee. When a white truck narrowly avoids hitting them, its back doors open to reveal a woman terrified and screaming caged up inside. Unsure if what he has seen is real, Zakes calls the police but drives on. Beth is furious that he hasn't done more to help and at the next petrol station storms off. When she doesn't return, Zakes slowly realises that she too has been snatched by the white truck driver and is forced into a vicious game of cat and mouse with a ruthless killer who has terrifying plans for his human cargo.
Extras:
Feature Commentary / Interview with Mark Tonderai / Interview with William Ash / Deleted Scenes with commentary / Featurettes / Artist on Artist interview
Tech specs:  
Cert: 15
Feature Running Time: 87 mins approx
Region 2
Feature Aspect Ratio: 2.35:1
Colour PAL
Audio: Dolby Digital 5.1
English Language
Cat No: OPTD1492
RRP: £15.99