Masters of Giallo DVDs out June 29th
True horror fans can prepare to rejoice. The undead spirit of the "video nasty" and some of the best examples of Italian exploitation cinema are about to be raised from the grave and reborn on DVD courtesy of Arrow Video's forthcoming Masters of Giallo imprint. The first bloody batch, hitting the shelves on 29th June 2009, gives a much-welcomed new lease of life to three of the genre's most revered classics - Dario Argento's
Sleepless
, Lamberto Bava's
Macabre
and Lucio Fulci's
The House by the Cemetery
. Released completely uncut on DVD for the first time in the UK, each film comes with an unholy colelction of brand new extras, along with two-sided sleeve inserts featuring all-new, specially commissioned exploitation artwork plus the film's original release artwork. Finally paying these movies their due respects after far too long, these releases are everything an insatiably hungry horror fan could ask for. As a special bonus, each release also comes complete with a poster featuring the brand new art.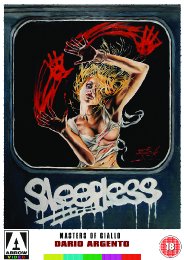 In Dario Argento's
Sleepless
(
Non ho sonno
, 2001) insomniac detective Moretti (Max von Sydow) is called upon to investigate a series of murders which bear a remarkable resemblance to those committed 17 years earlier and attributed to a killer nicknamed "The Dwarf." Is the new spate of crimes being committed by the same culprit or a copycat killer? Aided by Giacomo, the son of one of the original murderer's victims, Moretti sets out to solve the mystery.
Opening with a thrilling 20-minute sequence that reminds the viewer just why Argento is regarded as a true master of horror,
Sleepless
sees the director on fine form and is full of his trademarks, from the murderer's black glove and glinting knives to the beautiful women in peril, an abundance of red linen, unrelenting violence and, of course, glorious cinematic set-pieces, the best of which is an incredible, slow tracking shot of a carpet which leads to a truly gruesome pay-off.

Sleepless
(cert. 18) will be released on DVD by Arrow Video on 29th June 2009 at the RRP of £15.99. Special Features include:
Murder Madness and Mutilation: Sleepless and the Modern Italian Giallo;
The Making of Sleepless;
Trailer;
Photo gallery;
Press kit.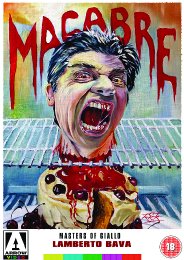 Lamberto Bava's stunning debut feature,
Macabre
(
Macabro
, 1980), is a stylish and blackly comic work bizarrely inspired by actual events. A disturbed young woman devastated by the death of her boyfriend moves into a boarding house where the blind landlord, regularly overhearing the sounds of lovemaking behind closed doors, becomes convinced his new tenant has resumed her passionate affair with her late lover! It sounds crazy, but the landlord never sees anyone enter or leave the apartment in question. Of coures, he is blind, but is that the only reason? As his quest to discover the truth behind his suspicions unfolds, his findings propel the distasteful proceedings to a chilling climax involving a fridge that will end viewers' midnight snack cravings forever.
Macabre
(cert. 18) will be released on UK DVD by Arrow Video on 29th June 2009 at the RRP of £15.99. Special Features include:
Exclusive booklet - A Q&A with Lamberto Bava;
Introduction to

Macabre

by Lamberto Bava;

Macabre

and the Golden Age of Italian Exploitation;
Trailer;
Photo gallery.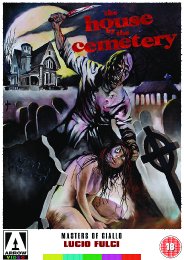 Gore-master Lucio Fulci's zombie favourite
The House by the Cemetery
(
Quella villa accanto al cimitero
, 1981) sees Dr. Norman Boyle rather ill-advisedly accepting a research assignment previously abandoned by a suicidal former colleague and moving his family into a creaky old mansion (unsurprisingly situated next to a cemetery!) in New England. It's not long before his young son begins repeating some dire warnings from his new "imaginary" friend relating to the house's bloody past and its equally ominous future. Meanwhile, Boyle's investigation into his colleague's death has unearthed the diabolical history of the house's original tenant, a deranged surgeon with a penchant for illegal experimentation and the benefits of flesh-eating immortality. Hey, what's that noise coming from the cellar? Cue maggot-riddled zombies, flesh-piercing pointy things, decapitation and much more.
The House by the Cemetery
(cert. 18) will be released on UK DVD by Arrow Video on 29th June 2009 at the RRP of £15.99. Special Features include:
Fulci in the House: The Italian Master of Splatter;
Photo gallery;
US theatrical trailer;
International theatrical trailer;
US TV spot;
Deleted scene.