Diminished Capacity out in July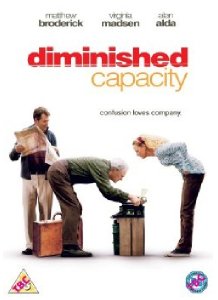 Paramount Home Entertainment Presents
Matthew Broderick stars in the 2008 Sundance Film Festival selection, Diminished Capacity, arriving on DVD on July 27 2009
It's often said that sometimes what you lose is not as important as what you find. 
DIMINISHED CAPACITY
is the perfect summer comedy to prove this theory when it arrives on DVD on July 27 2009 
Director Terry Kinney's delightfully poignant and bittersweet comedy poses the question: How much is a good memory worth? That's the question that faces newspaper editor Cooper (Matthew Broderick,
Ferris Bueller's Day Off
) after a debilitating concussion takes him from the political pages to comic strip detail. Looking for answers, he travels home to Missouri where his now senile Uncle Rollie (Alan Alda,
M*A*S*H
) is on the verge of losing his home. 
When a valuable baseball card is thrown into the mix, these two men along with a motley group of hometown friends, including Cooper's high school sweetheart, Charlotte (Virginia Madsen,
Fire with Fire
), head to a memorabilia expo to make the deal of a century. Diving headfirst into a snake pit of slick salesmen, crooked dealers and rabid fans reveals that there are some things in life that you can't put a price on. 
DIMINISHED CAPACITY
also stars Dylan Baker (
Revolutionary Road
), Louis C.K. (
Saturday Night Live
) and Bobby Cannavale (
Will & Grace
) in hilarious supporting roles. 
DIMINISHED CAPACITY
is available to buy on DVD on July 27 2009
from Paramount Home Entertainment
- ENDS -
DVD TECHNICAL DETAILS
Title
Diminished Capacity
Release Date
July 27 2009
Discs
1 disc set
RRP
£19.99
Cert
15
Sound
Dolby Digital English 5.1 Surround
Running Time - Film
Approx. 85 minutes